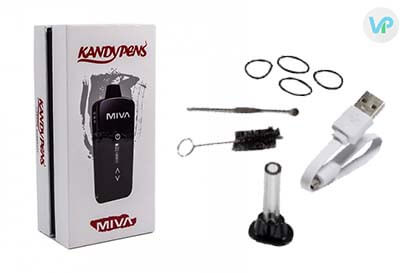 KandyPens, a name well known for top quality, now has their Miva vape, one that boasts full temperature control and great ease of use. With a short heat up time and exceptional flavor and vapor quality, this convenient convection vaporizer is ready to get the job done.
Pros
Convection vaping for even heating
Low draw resistance
Great vapor quality
Memory Data Function
Incredibly compact
Cons
In-Depth of KandyPens Miva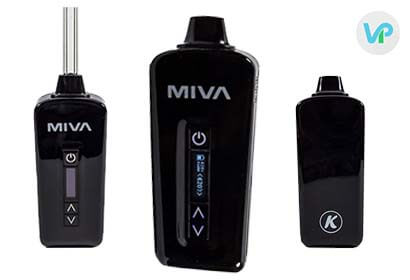 - Price - Typical for a nice, higher end dry herb vape, the KandyPens Miva sells for $199 but is well worth the money, as we have seen with many other KandyPens models. They are always top quality, high performing, and built to last. The same can be said here.
- Vapor Quality - This model excels when it comes to vapor production and quality. Thick clouds and a cool, refreshing, good tasting vapor are on the menu, and this herb vaporizer is every bit as satisfying as you might imagine.
- Guarantee - To help ease concerns about the price, it must be known that the Miva vape features a lifetime warranty! That's right--you are insured for life with one purchase of this incredibly durable portable vaporizer.
- Prep Time - In order to use the KandyPens Miva, you must only wait a short duration of 10-20 seconds for it to reach its necessary temperature.
- Portability - Created with a sleek, pocket-sized design that fits easily in your hand, this convection vaporizer can be quickly concealed or quickly drawn from for compact usage anytime, anywhere.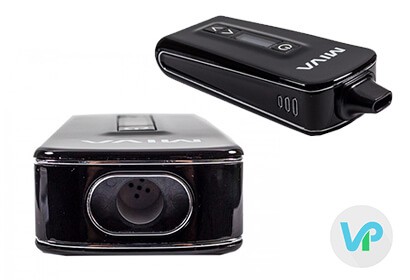 - Ease of Use - Unlike other portable vaporizers, you don't have to waste your material inside of huge compartments in order to vape. It features a small packing chamber that is easy to load, making it more efficient than its brothers and sisters. It has a low draw resistance, making the Miva extremely easy to pull from with its three air holes; in fact, it feels as if you are just breathing in effortlessly.
- Heating and Temperature Regulators - This vape employs the use of a memory data function, so on startup, it automatically heats to the temperature you used. This delivers consistent, top quality performance with every session. It also features a high-grade ceramic heating chamber that gives you even heating of the material, no matter what.
- Power Supply - This unit is powered by a 220mAh battery which gets charged using a convenient micro-USB charger.
Though the price may seem a bit steep, the KandyPens Miva truly brings everything to the table, making it beyond worth it. This convection vape for dry herbs fits easily in the pocket and in the hand, making for simplified and covert usage wherever you are. It features a memory data function, which allows the device to remember the last used temperature and immediately heat to that temperature again when you turn it on. This means this device is certainly recommended for those on the go who don't want to spend too much preparation time to get ready for an on-the-go session, especially because it only takes 10-20 seconds.