The Loki Vaporizer is a conduction-style dry herb vaporizer with an anodized heating chamber that delivers thick and flavorful vapor. The predecessor of the Loki Touch, it has a powerful battery and is highly portable, measuring only 3.75 inches. Read on to see our review of the Loki Vaporizer below.
Pros:
Anodized heating element
Powerful, long-lasting battery
3 temperature settings
Easy to use
Great flavor and vapor production
Very compact and small
Cons:
Loki Vaporizer Reviewed
Rating:

7

/

10

by VaporPlants
To purchase a similar model, click below:


Use coupon code 'VPR' to save 10% OFF
Breakdown of Loki Vaporizer
| | |
| --- | --- |
| Price | $110 |
| Materials Type | Dry Herb |
| Heating Style | Conduction |
| Oven Material | Anodized |
| Removable Battery | No |
| Battery life (Usage time) | 3 Hours |
| Easy to load? | Yes |
| Vapor Production | Excellent |
| Vapor Smoothness | Excellent |
| Flavor / Taste | Excellent |
| Precise Temp Adjust / Temp Range | 3 Temperature Settings |
| Warranty | 1 Year Warranty |
In-Depth of the Loki Vaporizer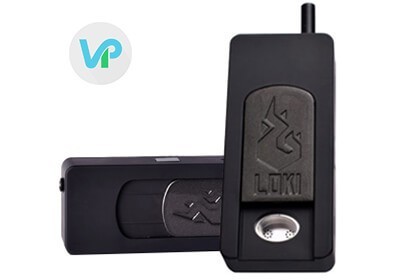 - Price - The Loki Vaporizer comes in at a price of $110, a very competitive price for dry herb vaporizers.
- Vapor Quality - This portable vaporizer features an anodized heating oven that lends a rich, tasty flavor without taking away from its immense cloud production.
- Guarantee - The Loki Vaporizer comes standard with a manufacturer's replacement warranty with an unspecified duration of guaranteed replacement that is restricted only to normal usage.
- Prep Time - With its included flathead packing tool and simple access to the chamber, the Loki Vaporizer is easy to fill and clean, making prep time simple and swift while requiring minimal vaporizer maintenance.
- Portability - With an overall height of just 3.75 inches, the Loki Vaporizer is a small, handheld vape vaporizer that can easily be brought along with you wherever you go. It can be concealed in the palm and fits comfortably in your pockets. With its retractable mouthpiece, the Loki Vaporizer can go anywhere you go without fear of damaging the device. Its overall build is very durable, as well.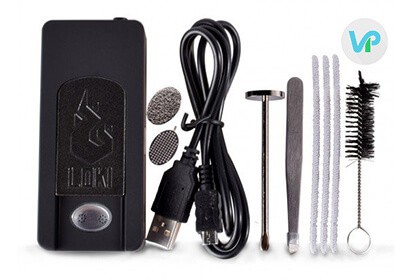 - Ease of Use - The Loki Vaporizer delivers easy access to the anodized heating chamber. Simply slide open the oven cover by pulling it up, and then pack your material inside of it. Gently press it down using the flathead packing tool that avoids spillage, and with the cover back on, you are ready to vape. The Loki Vaporizer also offers the convenience of a one-button operation system.
- Heating and Temperature Regulators - Instead of convection, this vaporizer for dry herbs uses conduction heating. The Loki Vaporizer offers 3 optimized temperature settings designed to give you the best vape possible every time. The lowest setting delivers immeasurable flavor, while the highest setting produces incredible clouds. Choose the medium setting for a vape that is somewhere in the middle.
- Power Supply - The Loki Vaporizer has a built-in lithium-ion battery that is rechargeable and potent. You can use the Loki Vaporizer for up to three hours when this powerful battery is fully charged.
All in all, the Loki Vaporizer is a great herbal vape for those who want something cheap, durable, powerful, and highly portable. It features a number of options that let it be customizable to your preferences and is very simple to use. The anodized heating chamber provides incredible flavor and vapor. This is a vaporizer you shouldn't let pass by if you need a reliable portable vape.