The Pulsar APX is a concentrates vape that is stealthy, powerful, and heats up to temperature at an impressive rate. Small enough to be discreetly held in the palm of your hand, it can be charged using a universal micro-USB cable in only 1.5 hours, making it quick, efficient, and incredibly portable.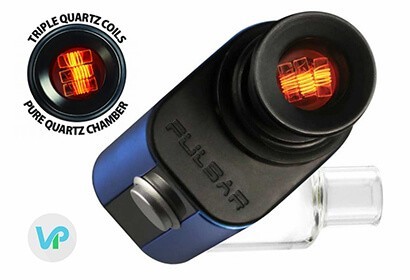 Pros:
1100mAh battery
5-second warm up time
Charges fully in 1.5 hours and can be used for 1.5 hours on a full charge
Includes metal dabbing tool and silicon jar
Large, flavorful and pure clouds
Triple quartz atomizer with quartz heating chamber
Ultra-portable; 3.5 inches in height
Cons:
1-year warranty that is shorter than other vaporizers on the market
No temperature control
| | |
| --- | --- |
| | Pulsar APX for Wax |
| Price | $60.00 |
| Materials Type | Waxy concentrates |
| Heating Style | Conduction |
| Oven Material | Quartz chamber and triple quartz atomizer |
| Vapor Path | Glass on glass |
| Removable Battery | No |
| Battery Life (Usage time) | 1.5 hours |
| Charger | Micro-USB |
| Charge time | 1.5 hours |
| Bluetooth / APP | No |
| Heat-up Time | 5 seconds |
| Easy to Load? | Yes |
| Draw Resistance | Low |
| Vapor Production | Excellent |
| Vapor Smoothness | Excellent |
| Flavor / Taste | Pure and flavorful |
| Odor Level | Low |
| Precise Temp Adjust / Temp Range | 356°, 374°, 392°, 410°, and 428° Fahrenheit (And 180°, 190°, 200°, 210°, 220° in Celsius ) |
| Vape While Charging | Yes (But Pulsar strongly suggests not to) |
| Warranty | 1 year |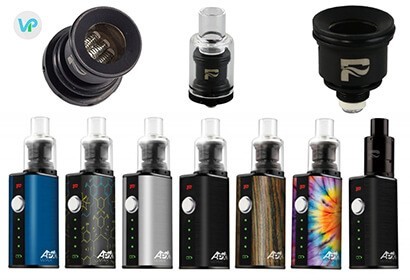 The Pulsar APX Wax vaporizer is a cousin of the popular dry herb Pulsar APX that is ultra sleek and portable. This wax vape is super compact, easy to use, has a long battery life, and is ready for dabbing after only a 5-second heat up time, perfect for those who like to dab on the go.
- Price - The Pulsar APX Wax comes in at a price point of $60.00, which is an average listing for vaporizers of its kind.
- Vapor Quality - The vapor quality of the Pulsar APX Wax is outstanding. It utilizes a triple quartz coil as well as a pure quartz heating chamber that work in harmony to provide evenly distributed heat and a larger surface area. The expansive surface area allows plenty of room for wax which translates to bigger hits than ever before. These hits are also clean and flavorful, as tasty hits are quartz's strong suit. With no burnt flavor and the peace of mind that your wax will become completely vaporized, leaving nothing behind, the Pulsar APX Wax is a truly efficient and powerful wax vaporizer.
- Guarantee - The Pulsar APX Wax comes with a 1-year warranty which is great for testing it out, but this warranty is shorter than some other vaporizers of its kind.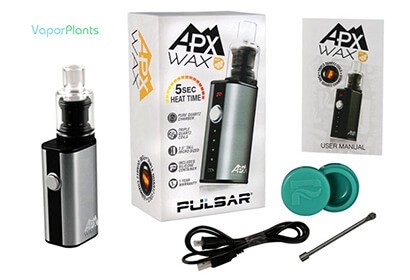 - Prep Time - A 5-second heat up time makes dabbing whenever the mood strikes quick and simple. This also makes it possible to enjoy quick, discreet hits on the go.
- Portability - Measuring only approximately 3.5 inches tall, the Pulsar APX Wax is perfect for taking with you out and about as it can easily slip into the pocket and be concealed by the palm.
- Ease of Use - The Pulsar APX Wax comes with a small silicone jar for storing your concentrates. It also includes a metal dab tool that makes putting wax on the atomizer a breeze. To make vaping a more comfortable experience, this vape also has a splatter guard that stops hot wax from popping into your mouth, and includes four small air holes to make the hits smoother and easier to take.
- Heating and Temperature Regulators - As mentioned, the Pulsar APX Wax comes with a triple quartz coil atomizer as well as a pure quartz atomizer, both of which are incredibly efficient.
- Power Supply - A powerful 1100mAh battery powers the Pulsar APX Wax. It uses a micro-USB port, only takes 1.5 hours to fully charge, and will provide up to 1.5 hours of usage.
The Pulsar APX Wax is a portable and compact vaporizer that is excellent for bringing along anywhere you go. It features an ultra-fast 5-second heat up that makes taking swift and discreet hits a breeze. A glass mouthpiece works with the triple quartz atomizer and quartz heating chamber to provide pure and flavorful large clouds in only 5 seconds. With its short charging time and long battery life, this is the ultimate vape for dabbing on the go.
How to use the Pulsar APX Wax Vaporizer:
Pull off the glass mouthpiece to expose the heating element.
Load the wax onto the coil before powering it on to preserve wax.
Place glass mouthpiece back on the vape.
Press the button five times to turn it on and then another time to start heating it.
Wait 5 seconds.
When the "P" turns green, it is ready for vaping