The 7th Floor SideKick is both a wax and a dry herb vaporizer. Durably constructed out of heavy-duty, top-quality materials, its ergonomic design coupled with its weightiness makes this a sturdy vape you can feel confident holding. It features a "stir while you vape" function that lets you maintain the vapor quality as you go, and a cooling chamber for smoother hits. Temperature control with buttons, and an LED display lets you fully customize your vaping experience each and every time.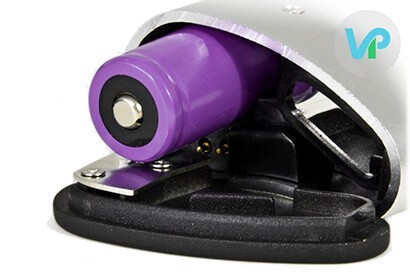 Pros:
Vortex cooling chamber
Durable, weighty construction
"Stir while you vape" tool for quality hits every time
Easy temperature control
Moderately short heat up time
Cons:
Takes a few draws before good vapor production begins
Due to its lack of dense vapor, this dab vape is not for cloud chasers
Sidekick Vaporizer Breakdown
| | |
| --- | --- |
| | Sidekick Vape |
| Price | $300 |
| Materials Type | Dry herbs and wax concentrates |
| Heating Style | Conduction/Convection |
| Oven Material | Ceramic |
| Vapor Path | Glass |
| Removable Battery | Yes |
| Battery Life (Usage time) | 60 Minutes |
| Charger | 18350 battery (pair) external charger  |
| Charge time | 90 minutes |
| Bluetooth / APP | No |
| Heat-up Time | 45 seconds |
| Easy to Load? | Yes |
| Draw Resistance | Moderate |
| Vapor Production | High |
| Vapor Smoothness | Excellent |
| Flavor / Taste | Excellent |
| Odor Level | Moderate |
| Precise Temp Adjust / Temp Range | 21 settings: between 100-145 degrees F |
| Vape While Charging | No |
| Warranty | 7 years (Limited) |
In-Depth of 7th Floor Sidekick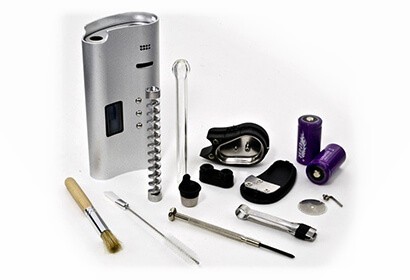 - Price - Coming in at $300, the Sidekick Vape might seem to be a bit steeper in price than other portable vaporizers, but its array of features and its durable construction make it worth the price tag.
- Vapor Quality - The 7th Floor Sidekick Vape comes with the innovative "stir while you vape" function which lets you keep the quality of vapor exactly where you want it throughout the session. A stainless steel vortex cooling chamber keeps the vapor that is produced crisp, cool, and smooth the whole time you vape it, but it won't produce giant clouds. Furthermore, it uses a full ceramic heating element that evenly distributes heat, stainless steel screens, and a stainless steel vapor path.
- Guarantee - The Sidekick comes with a 1-year warranty to ensure your satisfaction with the product.
- Prep Time - It takes only an average of 30-40 seconds for this heavy-duty vaporizer to heat up and it's easy to load the chamber, letting you vape conveniently and in no time at all.
- Portability - It is heavy, but it fits comfortably in both your hand and your pocket, although it might weigh down the latter. Due to its weight, it has moderate portability.
- Ease of Use - This is an incredibly ergonomic wax vape that is convenient to pack with either material, dry herb or concentrates. With a quick heat up time and convenient packing tools, it is certainly easy to use.
- Heating and Temperature Regulators - This is a conduction vape that features temperature control buttons and an LED display. The buttons are spaced comfortably for ease of use, and all controls, along with the LED display are placed on one side of the vape to easily choose your settings.
- Power Supply - When you purchase this unit, you will receive 2 sets of rechargeable 18350 batteries, along with a charging deck that makes it simple to keep your conduction vape charged up all of the time.