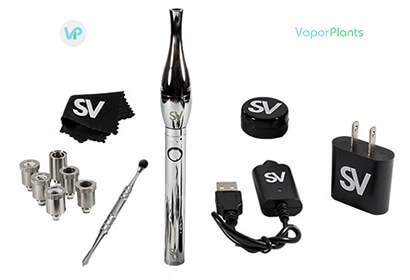 From the makers of some of the most powerful vape pens on the market comes the Source Orb 4. Often called the best vape pen out there, the Orb 4 sticks to the Source's level of excellence by delivering exceptional taste, vapor quality, and ease of use. This is a wax vape pen that comes with an impressive selection of up to 8 different wax atomizers depending on the kit that you purchase. Read on for our full review.
Pros:
Six atomizers come standard
High quality materials give outstanding vapor quality and performance
Magnetic lock ensures quick filling and refilling
Diverse vapor quality and customization
Lifetime guarantee
Powerful battery
Cons:
It is slightly heavier than other wax pens, detracting from its portability
It is pricey, but many agree that the power behind it makes it worth every penny
| | |
| --- | --- |
| | Source Orb 4 |
| Price | Premium: $100 & Signature: $200 |
| Materials Type | Concentrates |
| Heating Style | Conduction |
| Oven Material | Titanium, ceramic, and quartz |
| Vapor Path | Metal/rubber/plastic |
| Removable Battery | Yes |
| Battery Life (Usage time) | 90 minutes (1.5 hours) |
| Charger | 510 Threaded USB |
| Charge time | 3 Hours |
| Bluetooth / APP | No |
| Heat-up Time | 2-3 Seconds |
| Easy to Load? | Extremely |
| Draw Resistance | Variable |
| Vapor Production | Excellent |
| Vapor Smoothness | Excellent |
| Flavor / Taste | Excellent |
| Odor Level | Low |
| Precise Temp Adjust / Temp Range | Variable Voltage; up to 40 Watts |
| Vape While Charging | No |
| Warranty | Limited Lifetime |
In-Depth of the Source Orb 4
- Price - For $99 you can get the Premium kit that comes with 6 atomizers or the Signature kit, which comes with 8 unique atomizers.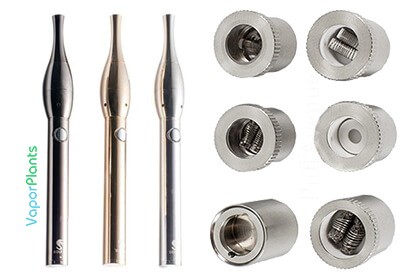 - Vapor Quality - Each atomizer delivers unique benefits like taste and vapor production depending on its composition, but all of the atomizers in this wax vape pen are impressive and produce nice, flavorful clouds. Then there is the added benefit of multiple airflow choices via a number of air holes, helping to adjust both the draw resistance and the amount of vapor being produced at any given time.
- Guarantee - The Source Orb 4 comes with a lifetime warranty so that you can feel secure in your purchase of this powerful vape.
- Prep Time - Thanks to the magnetic mouthpiece of the Source Orb 4, the prep is simple. It doesn't take long at all to heat it to your preferred temperature via wattage or temperature control, so all you need to do to start vaping is load your concentrate material into the chamber and close the lid.
- Portability - The Source Orb 4 is fairly portable. It fits easily in the pocket and is semi-discreet in the hand, looking more like an electronic cigarette box mod than anything suspect like a wax vaporizer pen. It is a bit weightier than other wax vapes, decreasing its portability just a bit.
- Ease of Use - Its new magnetic lock mechanism makes filling it with your wax simple and swift.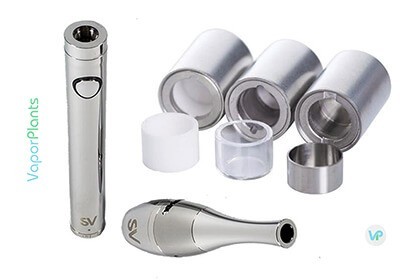 - Heating and Temperature Regulators - You have a choice between many different wax atomizers with the Orb 4, which includes five new coil-less atomizers along with three separate, unique double coil atomizers. Grade 1 and 2 titanium is used to make all of the coils and titanium atomizers.  Also included is the new Black Ceramic Double Coil, which uses volcanic porous black ceramic to efficiently take in more concentrates to lend you an incredible, bold flavor.
The other new atomizer in these kits is the Quartz SOURCE Terra 2. It has an all-ceramic plate inside of a quartz chamber that is perfectly suited for low-temperature hits. It comes with a grade 2 titanium nail coil-less atomizer, as well.
- Power Supply - The Orb 4 top uses a 510-threaded battery, but keep in mind that this is not an eGo style vape; instead, this vaporizer is made for use with sub-ohm batteries like the ones Source offers in their kits. The Premium kit comes with a 650mAh sub-Ohm battery that takes around 2-3 hours to reach a full charge, while the Signature kit comes with a 40 Watt box mod battery that has a rating of 2200mAh and can be charged in 3 hours.
The Source Orb 4 lives up to the Source legacy, providing a powerful vaporizer for wax that produces massive clouds and enormous flavor, great ease of use, many atomizers and temperature/voltage settings for customization, a long-lasting battery and finally, a magnetic lock that makes loading and cleaning simple. If you love getting huge rips off of your wax from the very first hit, this is for you.
How to Use the Source Orb 4
Charge your Source Orb 4 battery completely.
Turn the Orb 4 on by pressing the power button 5 times in rapid succession. Once the battery blinks three times, you are ready to vape.
Choose your atomizer.
Select the voltage using the dial on the Premium kit or the buttons on the Signature kit box mod.
Lift off the magnetic mouthpiece to expose the chamber.
Load your favorite concentrate materials into the chamber of your choice using the included dabbing tool.
Replace the mouthpiece.
Take long, slow "sipping" draws and enjoy the vape!
If you've been using concentrated oils for some time, or have been experimenting with wax, you may be ready to try different ways of vaping. Normally, that would mean purchasing multiple vaporizer models, but now, it's possible to do that with just one vape pen! The SOURCE ORB is for both wax and dry herb oils, which comes with multiple atomizers and mouthpieces, letting you have different experiences with just one wax pen.
SOURCE ORB 3 Review (Discontinued - Third Generation)
The following information is about the previous third generation, Source Orb 3 pen for wax that we covered prior. This is for you to be able to compare 4th generation (covered above), to the previous generation.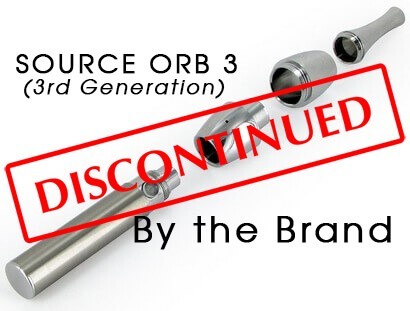 Pros of the SOURCE ORB 3rd Gen.
Flexible wax pen that comes in many kits
Very potent vapor
Little to no resistance
Allows for long and slow draws
Cons of the SOURCE ORB 3rd Gen.
Larger than most other vapor pens
Herbal heating elements combust herbs and are not recommended
More complicated than other vaporizer pens; may be too confusing for beginners
In-Depth of the SOURCE ORB 3rd generation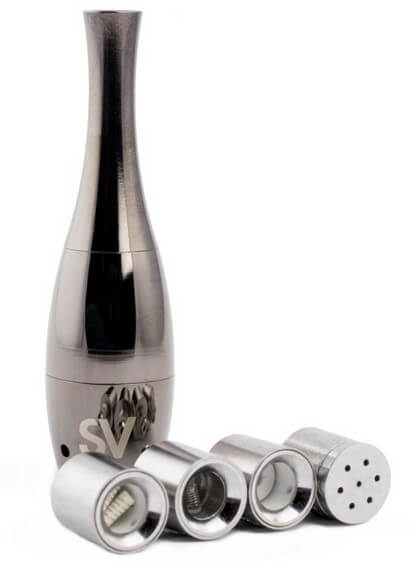 - Price - the SOURCE ORB 3 is sold in a number of different kits. The least expensive of the wax vape pen kits sells for around $90, making it a mid-range vape, while the most expensive kits are around $130. Considering the number of parts and accessories that you get, any of the kits is well worth the money.
- Vapor Quality - the experience that you get vaping with the SOURCE ORB 3 will depend on which of the atomizers you use. All of the wax vapor pen atomizers produce average to large vapor clouds with very potent vapor. Different atomizers provide more flavorful or smoother vapor, but you're sure to find an option in the wax pen kit that will give you a good vaping experience. As a dry herb vaporizer pen, the SOURCE ORB 3 is lacking. The atomizers do not vaporize material; instead, they end up burning it. As a result, this pen is only recommended for use as a waxy oil herbal vaporizer.
- Guarantee - SOURCE offers a 30-day warranty on the atomizer, and a lifetime warranty on all the attachments for the wax pen, separating the ORB 3 from other vape pens that normally do not have these types of warranties. The battery is warrantied for 1 year, which is about average.
- Prep Time - the SOURCE ORB 3 heats up quickly and has very little wait time. Because there are so many components, it can be a little difficult to select the right ones and set up the vape.
- Portability - it's hard to truly consider the SOURCE ORB 3 a vaporizer pen because it is much larger than the average vape pen. This is because the pen has a very large battery. As a result, the vapor pen is not as ideal for travel and not as compact as other smaller vapes.
- Ease of Use - once the SOURCE ORB 3 is assembled, it is easy to use. The vape allows you to take long and slow draws with equal ease and has almost no resistance.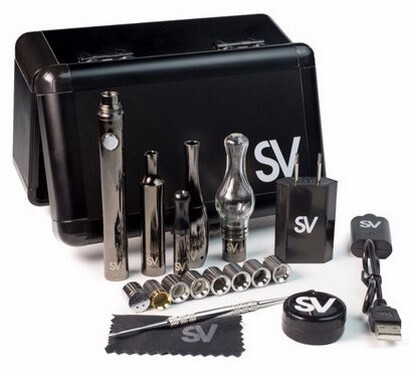 - Heating - the SOURCE ORB 3 has a variable voltage battery that makes it possible to adjust the temperature; however, the vape doesn't allow you to simply click a button to set the temperature, making it a little more complicated.
- Power Supply - as previously mentioned, the SOURCE ORB 3 has a variable voltage battery that allows you to set the voltage to customize the performance of the wax vaporizer. The battery life is average with the unit.
The SOURCE ORB 3 is available in a wide variety of kits, so you can find one that suits your budget. The pen is the same in each kit, but you'll get additional accessories and atomizers when you choose the more expensive kits. Although it's larger than many other wax vape pen models, the vaporizer is a great choice for someone who wants a very good vaping experience, and a choice of atomizers to add variety to their vaping sessions.
Buy from VaporPlants.com, use Promo Code: VP5 - at checkout for 5% OFF