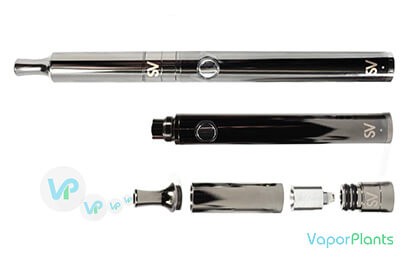 The Source Slim 4 Vaporizer is an attachment with 510 threading that is compatible with any of the Source Orb series. It is a small vaporizer pen that is super compact and can be brought with you anywhere you'd like to go. With your choice of atomizers and adjustable airflow, this is one very customizable vape. Read on to learn more.
Pros:
Dual quartz and titanium atomizers
Ultra-compact - measures only 4.7 inches tall
510 threaded atomizers for fast switching
Great flavor and vapor production
Lifetime warranty
Cons:
No precise temperature control
| | |
| --- | --- |
| Model: | Source Slim 4 |
| Price | $90 |
| Materials Type | Concentrates / wax |
| Heating Style | Conduction |
| Oven Material | Quartz/Titanium |
| Vapor Path | Stainless Steel 303 build |
| Removable Battery | Yes - Variable Voltage (3.2v - 4.8v) |
| Battery life | Will not last the full day |
| Charger |  USB eGO Charger |
| Charge time | 2-3 hours |
| Bluetooth / APP | No |
| Heat-up Time | 5 Seconds |
| Easy to load? | Moderate |
| Draw Resistance | Adjustable |
| Vapor Production | Excellent |
| Vapor Smoothness | Excellent |
| Flavor / Taste | Superb |
| Odor Level | Low |
| Precise Temp Adjust / Temp Range | 3 Temperature Settings |
| Vape While Charging | No |
| Warranty | Limited Lifetime |
| Other: | Built-in Silicone Wax Container |
Basics of the Source Slim 4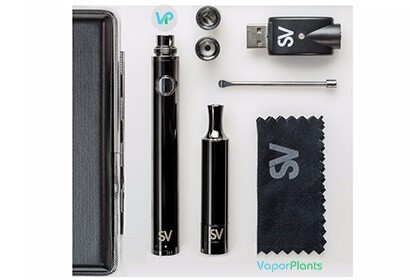 - Price - For an herbal pen, it retails at $90, which is not at all a bad price point.
- Vapor Quality - The vapor quality of the Source Slim 4 is exceptional. It features your choice of a dual quartz atomizer from the Source Orb 4 series or a quartz coil-less atomizer. With either of these, you can expect the most robust and flavorful clouds you have ever experienced with your concentrates. The titanium dual quartz atomizer will provide the best dab pen clouds.
- Guarantee - The Source Slim 4 features an impressive lifetime warranty.
- Prep Time - Prep time is simple. With the 510 threading, you can just attach and go! Loading it is simple and it takes little time to heat up to the proper vaporization point that you have set.
- Portability - Measuring a tiny 4.7-inches in height and weighing only 102 grams, the Source Slim 4 is incredibly compact. It can easily fit in the palm and in the pocket, making it a discreet vape that you can take anywhere. The Source Slim 4 Vape also features a built-in silicone concentrate container. This concentrate container allows you to tote around your oils and waxes in a non-stick jar and eliminates the need to carry around a separate container, making it even more portable.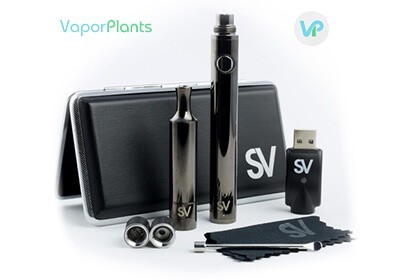 - Ease of Use - The 510-Threaded atomizers make for quick changing, no matter what you want to put it on. It also features an attachment that has a top airflow system, allowing you to adjust it to your liking for firmer or looser pulls from the Source Slim 4.
- Heating and Temperature Regulators - The Source Slim 4 comes with 3 optimized heat settings.
- Power Supply - The high output battery included in the Source Slim 4 Vaporizer lends you flavorful hits from the coil-less atomizers without taking away any of the power.
As a whole, the Source Slim 4 is a great handheld vaporizer that uses conduction. It is the perfect wax pen for those who want customizable control on the go. This discreet pen vaporizer is super compact, so if you are looking for a way to vape while out and about, the Source Slim 4 is your key.
Orb 4 vs. Orb 3 by Source
The Source Orb 3 has a powerful battery, as does the Source Slim 4. With the Source Orb 3, if you purchase a higher end kit, you get up to an impressive 8 atomizers. Both the Source Orb 3 and Slim 4 come with 3 temperature settings. The Source Orb 3 has great airflow, but with the Source Slim 4 you can actually customize your airflow. The Source Slim 4 is much more discreet and smaller than the Source Slim 4, making it a bit more portable.