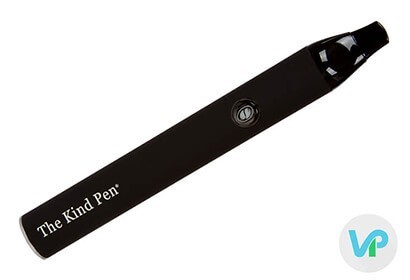 The KindPen Orion is a compact dry herb vaporizer that can be taken anywhere. It uses convection heating and has a great battery to help it produce incredible vapor that tastes absolutely scrumptious right up until the last puff . A portable convection vaporizer that can heat to your desired temperature between 360 and 420 degrees Fahrenheit in only 30 seconds. Its large stainless steel chamber can accommodate up to .5 grams of material. The battery is long lasting for vaping on the go and can be recharged with ease. Read our full KindPen Orion review below.
Pros:
Ultra-portable
Convection heating
Incredible vapor quality & taste throughout the session
Powerful, long lasting 1200mAh battery
Easy to use
Fast heat up
Cons:
One temperature control setting
In-Depth of the KindPen Orion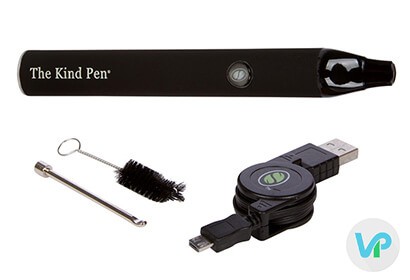 - Price - The KindPen Orion retails at $79, a great, competitive price for an herbal vaporizer.
- Vapor Quality - The vapor quality is perfect from the first hit to the last, which is hard to find with most portable vaporizers. It uses convection heating, which promises absolutely no risk of combustion, and boasts a large stainless steel chamber that can hold up to 0.5 grams of ground material. It will seem like you are tasting every terpenethroughout the entire session, probably attributed to the ceramic filter which promotes great tasting hits.
- Guarantee - The KindPen Orion comes with a promising lifetime guarantee.
- Prep Time - Prep time is simple and quick! Load the material with the included packing tool; turn the dry herb vape on, give it 30 seconds to heat up, and you are ready to go.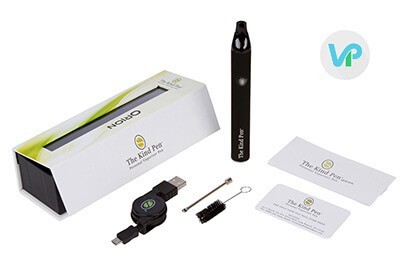 - Portability - This herbal unit is a slim vaporizer pen, sleek, and ultra portable due to its size and weight. It fits in the hand easily and won't weigh down your pockets on your travels.
- Ease of Use - The KindPen Orion is very simple to load thanks to its included packing tool, and it has a relatively short heat up time, making this herb vape efficient and fast--perfect for taking on the go.
- Heating and Temperature Regulators - Alongside its convection heating method, it features a sliding temperature control that goes between 360 and 420 degrees Fahrenheit. This definitely gets the job done, though some may wish they had more control over the temperature.
- Power Supply - The KindPen Orion has a powerful, long-lasting 1200mAh battery that comes with a 6-minute auto safety shut off feature. When the battery is drained, recharge it using the universal micro-USB port.
Overall, this is one of the best vaporizers for herbs you can get if you are after a powerful vape that mimics the performance of a desktop vaporizer. It features convection heating which is still a bit tricky to come by--especially at such an incredibly low price point, making the KindPen Orion a steal. From start to finish you will experience great tasting vapor, and you can vape for hours on its long-lasting 1200mAh battery. What's not to love?