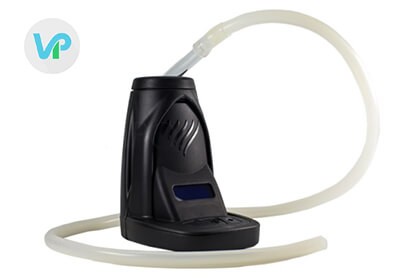 The Vapolution 3, VAP3, is a desktop vaporizer. The Vapolution company has been around for quite some time, and therefore clearly understands the needs of those who vape legally, and that is evidenced by their intuitive designs. To be used as a dry herb vape, the VAP3 has a full temperature spectrum that is capable of producing incredible vapor quality. There is no need to grind the herbs before use, making this tabletop vaporizer ultra convenient even without portability. All glass vapor pathways, mouthpieces, and heating elements make for unmatched vapor quality and smoothness with every hit.
Pros:
Full glass air path
Large load capacity
No need to grind herbs at all before use
Fully digital temperature control
Incredibly smooth and flavorful vapor quality
Cons:
Heat up time is 2 minutes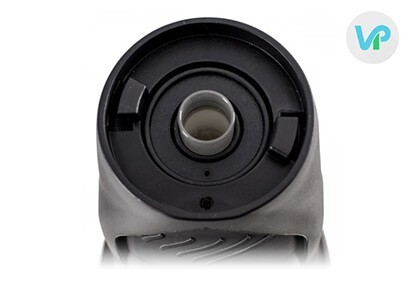 - Price - This herbal vaporizer retails for around $300. While that may seem steep at face value, this price actually comes out to be an average price for a high-quality, reliable dry herb tabletop vaporizer. With all of its useful components and features it is certainly a great value for your money.
- Vapor Quality - The Vapolution 3 possesses a 100 percent glass air path, producing smooth, cool, consistent, flavorful vapor with every hit. Coupled with the broad range of temperature options, it is easy to set this herbal vape to deliver the precise experience you are looking for every time. Other components, such as the chamber, heating element, and mouthpiece are made of glass, too, optimizing your experience.
- Guarantee - The VAP3 comes with a limited lifetime warranty.
- Prep Time - To heat up, the Vapolution 3 does take around 2 minutes. This is just below average for a tabletop vaporizer for herbal use.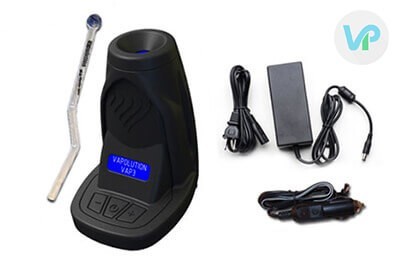 - Portability - As it is a desktop vape, the VAP3 needs a power source in order for it to work. This does, of course, prohibit portability; it is best to use this vaporizer at home where you can plug it into a wall outlet and set it atop a table for use.
- Ease of Use - The VAP3 is exceptionally simple to use. When you are ready to vape, there is no need to grind the herb finely before use or to grind it at all. This unit works incredibly well with the flower still in bud form! All you have to do to get started with vaping is to pop in a rather copious amount if you so choose and vape. This, coupled with its intuitive digital control of the various temperature settings, it doesn't get much simpler than this.
- Heating and Temperature Regulators - This is a convection vaporizer that features a digital control which allows you to set a precise temperature ranging from 212F-452F with ease. Such control allows you full and total customization of each and every vaping session.
- Power Supply - The VAP3 requires the use of a standard wall outlet for operation.