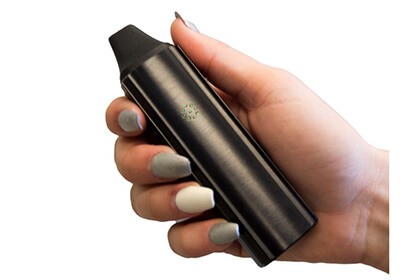 The VaporFi Atom is a tiny, compact yet powerful dry herb vaporizer that fits easily in the pocket. Resembling the sleek, stylish look of the Pax, but at a fraction of the cost, this dry herb vaporizer produces remarkable vapor during long vape sessions. Read on to learn more.
Pros:
3 heat optimized settings
Ceramic heating element provides even heating
Fantastic flavor and vapor production
Super powerful battery
Very simple to load
Cons:
Shorter warranty than most vaporizers
Atom Vaporizer Reviewed
Rating:

8

/

10

by VaporPlants
To purchase a similar model, click below:


Use coupon code 'VPR' to save 10% OFF
| | |
| --- | --- |
| | VaporFi Atom |
| Price | $140 |
| Materials Type | Dry herb |
| Heating Style | Conduction |
| Oven Material | Ceramic |
| Vapor Path | Stainless steel |
| Removable Battery | No |
| Battery Life (Usage time) | Well above average |
| Charger | USB |
| Charge time | 2 Hours |
| Bluetooth / APP | No |
| Heat-up Time | 45 seconds |
| Easy to Load? | Yes |
| Draw Resistance | Moderate/Low |
| Vapor Production | High |
| Vapor Smoothness | Excellent |
| Flavor / Taste | Excellent |
| Odor Level | Medium |
| Precise Temp Adjust / Temp Range | 3 Options: 360F, 410F & 464 degrees Fahrenheit |
| Vape While Charging | Yes |
| Warranty | 90 Days (Limited) |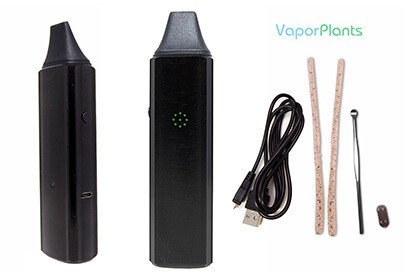 - Price - The VaporFi Atom is priced at $140, a bit more expensive than some other dry herb vapes.
- Vapor Quality - The VaporFi Atom has a spacious ceramic chamber at the bottom of the device that allows air to run freely through its stainless steel vapor path. This creates great clouds of tasty vapor.
- Guarantee - A 90-day warranty comes with this vape, which is a lot shorter than most other dry herb vaporizers.
- Prep Time - Because the VaporFi Atom features such a large chamber, packing it takes no time at all.
- Portability - This vaporizer can easily be concealed in the hand and carried in your pocket, giving it great potential for compact portability.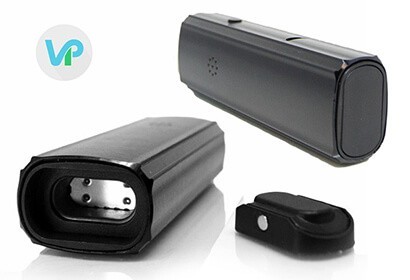 - Ease of Use - The VaporFi Atom's large chamber means less time packing and repacking it and more time enjoying the fantastic vapor it produces.
- Heating and Temperature Regulators - The VaporFi Atom has 3 heat settings. Its ceramic chamber can heat up to 360, 410, and 464 degrees Fahrenheit, lighting up blue, yellow, and red respectively.
- Power Supply - The VaporFi Atom comes with an ultra powerful and long-lasting 3000mAh battery that uses a standard USB to charge.
The VaporFi Atom is your go to vape if you want a portable vaporizer for dry herbs that rivals the look and feel of the Pax series. It comes with three heat settings powered by a long-lasting battery and a ceramic heating element that heats your material perfectly every time, making this a vape you don't want to miss out on.
How to Use the VaporFi Atom
Use a grinder to get your herbs as finely ground as possible.
- The finer the herb, the more surface area is exposed to the heating element to provide even heat distribution.
Pop off the food-grade mouthpiece.
Pack the herb chamber tightly but without restricting airflow.
Replace mouthpiece.
Click the button to turn it on and choose your heat setting from the three available.
When it has heated completely, vape and enjoy.
Maintenance
The VaporFi Atom has a simple to clean vape channel that is easy to maintain and clean using the pipe cleaning tools included in the kit. Keeping it clean will deliver a better quality vape each time you use it. If you misplace your pipe cleaners, you can always order more to ensure your vaporizer is as clean as it can be.  The VaporFi Atom also has a 30-day money back guarantee. If it does not arrive in perfect condition, you can return it risk free.

About The Manufacturer
American made, VaporFi is a subsidiary of the International Vapor Group who also owns other brands such as Direct Vapor and South Beach Smoke. VaporFi's aim is to change the way people smoke, offering an e-store with a wide variety of products that are all top-quality. This brand comes backed by a highly trained and experienced team of engineers and designers who work hard to bring only the best of the best to their customers. VaporFi's focus on customer service sets them apart, and their attention to every detail ensures customers are buying their products from a truly reliable and reputable brand.