Vape pens are ultra convenient portable vaporizer units because of their size and how compact they are; however, many herbal vaporizer pens fail to give you a true vaping experience and end up combusting herbs. It's rare to find an herb vaporizer pen that is able to truly vaporize, which the manufacturer claims the V2 Pro Series 3 can do. But can it? Read my vaporizer review to find out.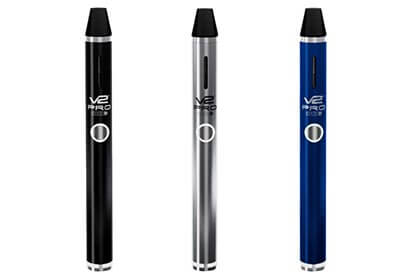 Pros:
Works as a wax and dry herb vaporizer and an e-cigarette
Above average vapor quality
Lifetime warranty
Pass through charging
Fast charge time
Easy to load and use
No combustion
Cons:
Vapor gets a little harsh toward the end of a session
Small dry herb chamber
Gets hot to the touch
Short battery life
Only an e-juice cartridge comes with it; herb and wax cartridges are sold separately
V2 Pro Series 3 Reviewed
Rating:

8

/

10

by VaporPlants
To purchase a similar model, click below:


Use coupon code 'VPR' to save 10% OFF
In-Deph of V2 Pro Series 3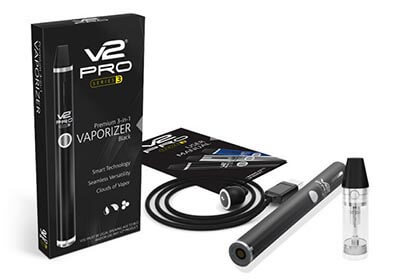 - Price - The V2 Pro Series 3 sells for $60 and that only includes the e-juice cartridge. To use this portable vaporizer as a dry herb or a wax unit, you need to purchase additional cartridges separately, making the unit more costly.
- Vapor Quality - As a wax or dry herb vaporizer, the V2 Pro Series 3 does not burn material. You will get a true vape experience with no smoke, and the vapor quality is above average. The taste is good, and the vapor is very smooth at the beginning. It does tend to get a little hotter as you vape.
- Guarantee - The V2 Pro Series 3 comes with a limited lifetime warranty, which is very uncommon for small vaporizer pens.
- Prep Time - Loading the V2 Pro Series 3 is rather easy, and it gets hot in about 30 seconds. One thing to note is that the herb chamber is very small, so you may need to refill for longer sessions.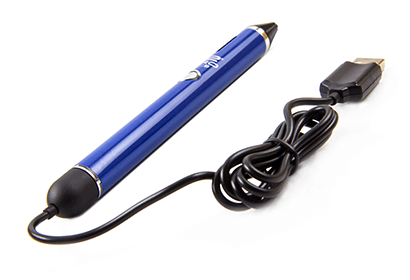 - Portability - Compact in size, the V2 Pro Series 3 is highly portable. It looks just like an e-cigarette, making it a great option for vaping in public.
- Ease of Use - With just one button, the V2 Pro Series 3 is straightforward and simple to operate. You will get some draw resistance no matter which cartridge you're using, so it may take a little time to master the correct technique.
- Heating and Temperature Regulators - The V2 Pro Series 3 only has one temperature setting, but as previously explained, it's been well calibrated to prevent combustion. Keep in mind that the outside of the pen does get hot to the touch. You could get burned by the portion just below the mouthpiece if you vape continuously for long periods of time.
- Power Supply - The battery life on the V2 Pro Series 3 is a little short compared to some other units. It will only last through about 30 minutes of use. You can vape while you're recharging the battery, though, and it only takes about 75 minutes to repower the battery if it's completely drained.
Overall, the V2 Pro Series 3 is a nice choice of portable vaporizer pen for someone who uses an electronic cigarette and also wants the ability to use their device as an herb vaporizer pen. Keep in mind that you do need to buy the herb and wax cartridges separately, but even with this added expense, the V2 Pro Series 3 offers value for the money.