While portable vaporizer units have become popular for people who want to enjoy on the go, desktop units are still considered to be the most efficient form of vaporizer. Most desktop models are only suitable for dry herbs and limit you to just one draw method, but the VapirRise is different. This innovative desktop unit works as a vaporizer for flowers and for concentrates and has a very flexible design.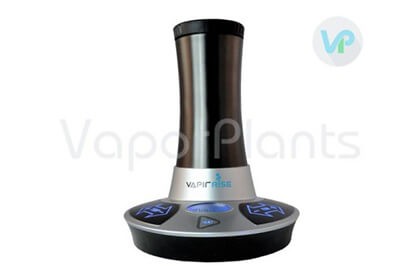 Pros:
Very low price for a true convection unit
Versatile design works with whip and balloon
Vapes waxes and herbs
Can be shared by up to 4 people
Easy-to-use controls
Precise temperature controls
Cons:
Large number of parts could be overwhelming for new users
Setup time can be lengthy, particularly in bag mode
Many desktop models produce better vapor
Fan is always on, so you have to continuously vape
Vapor quality is only about average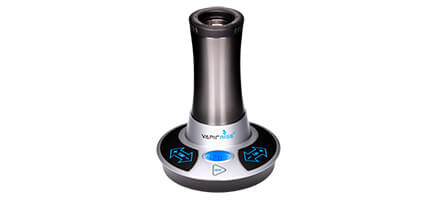 - Price - The Vapir Rise sells for around $250, making it less expensive than many other desktop vaporizer models on the market today. When you consider the price and the functionality of this model, it is an excellent value.
- Vapor Quality - While the Vapir Rise has a convection heating system that doesn't pose a risk for combustion, the desktop vaporizer's vapor quality is only about average. While the vapor isn't harsh or overly hot, other units do produce more flavorful, smoother vapor; however, those desktop units tend to be more expensive than the Vapir Rise.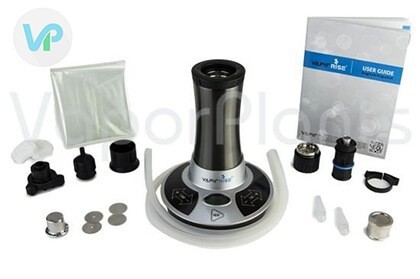 - Guarantee - The Vapir Rise comes with a 2-year standard warranty, and you can upgrade to a longer 3-year warranty for another $50. The standard warranty is about average for vapes in this price range.
- Flexibility - It's the flexibility of the Vapir Rise that really makes this device shine. You can use it as a direct draw vape with the included whip or attach bags to make the vaporizer work more like the Volcano vape. As previously mentioned, the unit works for both herbs and concentrates, separating it from the competition. It also comes with a multi-use adapter that lets you attach up to four whips, so a whole group can enjoy vaping at once.
- Prep Time - The Vapir Rise heats up faster than some other convection vaporizers; however, setting up the unit can be cumbersome, especially in bag mode. In order to be so versatile, and to be one of the best desktop vaporizers, it has to come with a variety of parts. At first, the sheer number of items in the box can be overwhelming, especially for new users. The instructions do allow you to correctly assemble it for the mode that you wish to enjoy, but expect it to take a while the first few times that you use these cheap vaporizers, which are also economical.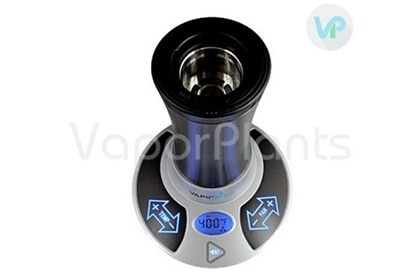 - Ease of Use - Digital controls make the Vapir Rise very easy to set once everything is assembled. In both whip and balloon modes, the vaporizer desktop unit is simple to draw from; however, there is one big downside to its design. If you have the heater on, the fan automatically turns on. This is fine in bag mode, but when you're using a whip, you need to keep drawing constantly in order to avoid wasting vapor. Some people may not mind this, but it does make it hard for you to take your time and relax between draws.
- Heating and Temperature Regulators - The Vapir Rise has digital temperature controls, that allow you to adjust it to the precise level of heating desired. An efficient heating system keeps the temperature within range throughout use.
- Power Supply - As a desktop vaporizer, the Vapir Rise requires electric power for operation. The cord is removable, making it compact for easy storage.
While the Vapir Rise doesn't rival the vapor quality of the Herbalizer or Volcano vaporizers, for a cheap vaporizer, it works remarkably well. This vape is a good choice for an experienced vapor enthusiast looking for the best cheap vaporizer for home use that will allow him or her to change up the way they enjoy vaporizing herbs.