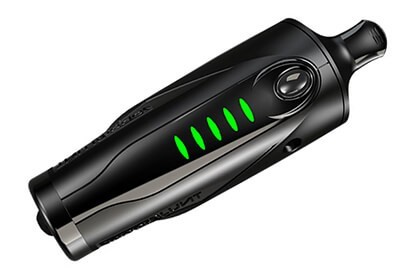 VaporBLUNT is a well-known manufacturer of vaporizers with a number of impressive models on the market. After the success of their other units, the engineers at the company have introduced the VaporBLUNT 2.0, a combination oil and wax vaporizer and dry herb vaporizer unit with some very unique features. Read on to learn more about it.
Pros:
Affordable price
Water attachment included
Can be used as an oil and wax vaporizer
Good vapor quality
Adjustable temperature settings
Cons:
Can be hard to master the loading technique
Not as compact as some other vaporizers
Price is on the high end side
VaporBLUNT 2.0 is Discontinued
Rating:

6

/

10

by VaporPlants
To purchase a similar model, click below


Use coupon code 'VPR' to save 10% OFF
In-Depth of the VaporBLUNT 2.0 Vaporizer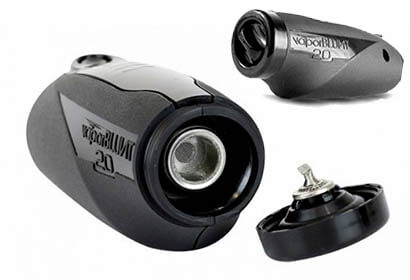 - Price - The VaporBLUNT 2.0 sells for around $150, making it a rather inexpensive vaporizer for dry herbs that is either medicinally prescribed or purchased in a state where recreational use is legal.
- Vapor Quality - When used as a dry herb vaporizer, the VaporBLUNT 2.0 Vaporizer produces above average quality vapor with large clouds. The model is sold with a water attachment that enhances both the flavor and smoothness of the vapor for a very exceptional vape. Rather efficient, the herbal vaporizer maximizes the potency of dry herbs and does not combust material. The performance is not as impressive if you use the model as an oil dab vaporizer. While you'll still get good quality vapor, most oil pen vaporizers outperform the VaporBLUNT 2.0.
- Guarantee - The VaporBLUNT 2.0 has a 1 year warranty, which is about average for a dry herbal vaporizer sold for this price.
- Prep Time - With the VaporBLUNT 2.0 Vaporizer, it's important to finely grind your herbs to get good results. This does require some time, but it's well worth it to ensure that you get the most out of your material. Unlike most portable vaporizers, this model works best with a tightly packed chamber. The downside to this is that you can't really load just a little and have a short session.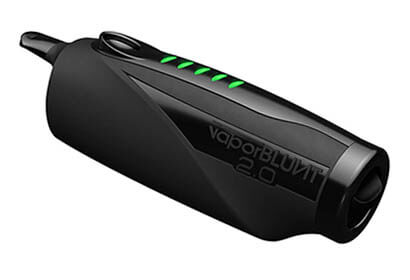 - Portability - While the VaporBLUNT 2.0 is compact in size and able to be taken with you on the go, the unit is not very compact. It's obviously a dry herb vaporizer, so this unit would not be a great choice for someone concerned about maintaining a low profile, while using the vaporizer for aromatherapy in public for.
- Ease of Use - There is a bit of a learning curve when it comes to the VaporBLUNT 2.0. Although it's easy to draw from the unit, it can take a little time to master how to load the chamber properly to get good vapor production. The actual operation of the unit is simple to master.
- Heating and Temperature Regulators - With the VaporBLUNT 2.0, you get your choice of five temperature settings, all of which are optimized to prevent combustion.
- Power Supply - Battery life on the VaporBLUNT 2.0 is about average. The unit does have a 12-minute auto shutoff feature that helps to conserve the battery life.
If you like to use water tools to filter your vapor, the VAPORBLUNT 2.0 is an excellent choice of herbal vaporizer. This unit is recommended for people who primarily vape dry herbs, but use oils and concentrates only occasionally, as it truly performs best as an herbal vaporizer. Make sure that you purchase a good herbal grinder to get the most out of this vaporizer.