QuickDraw has introduced a number of portable vaporizer pen models over the years, and their latest innovation, the QuickDraw 300 Series, has quickly become popular among vape enthusiasts. The QuickDraw vape pen is unique in that it has a magnetic interchangeable cartridge system that allows you to use the vapor pen as a dry herb vaporizer pen, a wax vaporizer pen, and as an oil vaporizer pen or e-cigarette. Read on to get a full review of the QuickDraw 300 Series, or Click Here to watch a video.
The Basics of the QuickDraw Vaporizer Pen Series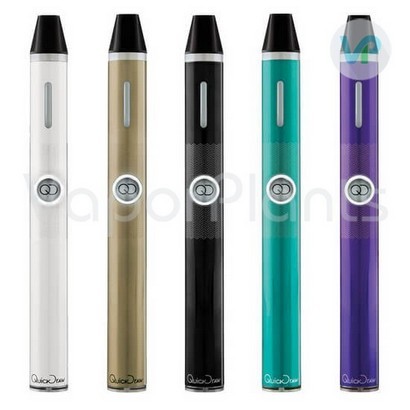 - Price - the QuickDraw 300 Series includes two vaporizer pens. The first is the QuickDraw 300-D, which comes only with the cartridge for using the vape as an herbal vaporizer. It costs $100, which is about average for a dry herb vaporizer of good quality. The second option is the QuickDraw 300-DLX, which comes with all three cartridges and costs $140. This is obviously much less than what you would pay to buy separate oil, herb, and wax vape pen vaporizers.
- Vapor Quality - when used as an herbal vaporizer pen, the QuickDraw 300 Series produces large clouds of potent vapor with above average taste and smoothness. As an oil vaporizer pen, the cartridge system provides exceptionally large clouds of vapor and very good tasting vapor. As a wax pen vaporizer, the model produces average to above average quality vapor in terms of taste, potency, and smoothness.
- Guarantee the QuickDraw 300 Series has a 1-year warranty, which is the norm for vaporizer pens.
- Prep Time - with the QuickDraw 300 Series, you do need to wait for the vapor pen to heat up in any of the three modes; however, the vaporizer pen reaches working temperature very quickly. The preheat feature allows you to get satisfying vapor cloud sizes from the first draw. With the magnetic technology used in the cartridge design, you can swap the parts out quickly when you want to use different materials. This is a nice feature as some other multifunction vape pens are difficult to convert.
- Portability - the QuickDraw vape pen is pocket sized and easy to carry. The vaporizer pen looks much like an electronic cigarette, so it's a discreet vape solution.

- Ease of Use - the biggest downside to the QuickDraw vaporizer pen is that it's difficult to load the dry herb vaporizer pen cartridge. The chamber is rather small, and it's easy to end up wasting material. Also, the wax vaporizer pen cartridge can be messy to load. Once you have the vapor pen filled, it's easy to draw from in any of its three modes, as it only has one button.
- Heating and Temperature Regulators - the QuickDraw 300 Series vape pens only have one heat setting, but the vaporizer self regulates to set the working temperature at the best level. The cartridges can become hot to the touch during long sessions, so it's important to hold the pen low by the battery.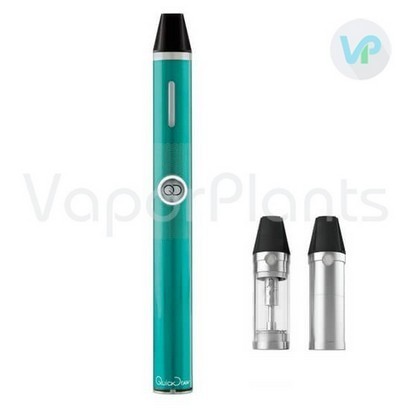 - Power Supply - the QuickDraw 300 Series features a 650 mAh vape pen battery that can be charged within 1 to 2 hours and that can supply about 6 to 8 hours of standby time. The battery life and charging speed are in line with what you'd expect from a vaporizer pen of its price.
Pros of the QuickDraw Vaporizer Pen Series
Very economical, particularly if you buy the QuickDraw 300-DLX
Flexible design that can be used for all types of materials
Very good vapor quality as an oil vaporizer or an herbal vaporizer pen
Good vapor quality as a wax vape pen
One button operation
Produces nicely sized vapor clouds right away
Cons of the QuickDraw Vaporizer Pen Series
Dry herb vaporizer chamber is challenging to load
Wax vaporizer pen chamber is challenging to load
All 3 cartridges get hot during use
You can learn more about both the QuickDraw 300-D and 300-DLX vaporizer pens by checking out their product pages here at VaporPlants.com!
QuickDraw 300 DLX Vaporizer designed for Dry Herb, Wax & Oil
Buy Vaporizers and Vape Pens from VaporPlants.com