The Vapir NO2 Portable Vaporizer is a dry herb vaporizer that has been on the market for about 5 years, but it still continues to sell well due to the many benefits that it provides. Read on to get the full story on this herbal vaporizer.
The Basics of the Vapir NO2 Portable Vaporizer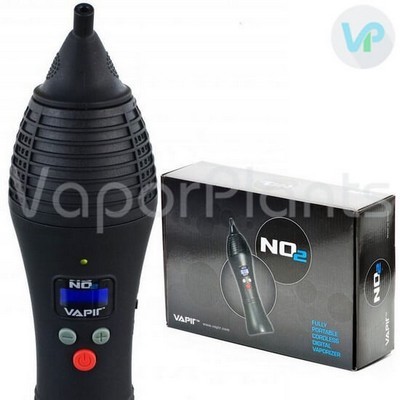 - Price - At its suggested retail price of $220, the Vapir NO2 Portable Vaporizer is one of the more expensive dry herb vaporizers, but when you purchase it with the discount available at VaporPlants.com, it's very affordable.
- Vapor Quality – The Vapir NO2 Portable Vaporizer produces very good quality vapor for a portable vape. While it doesn't rival the potency and flavor possible with a desktop vaporizer, you won't be disappointed with the vapor from this model.
- Guarantee - The heating element on the Vapir NO2 Portable Vaporizer is warrantied for 1 year, which is about average for a portable vaporizer.
- Prep Time - The Vapir NO2 Portable Vaporizer was clearly designed with simplicity in mind. Once you have the mouthpiece in place on the vaporizer, the entire vaporizer really consists of just two pieces. This makes it very easy to open and fill. After loading your dry herbs, you can be vaping in under 2 minutes, due to how fast the Vapir vaporizer heats up. Its preheating time is much faster than the norm for portable vapes.
- Portability - At 8.44 inches by 2.25 inches in size, the Vapir NO2 Portable Vaporizer is on the large side. You can't fit it into your pocket, but it is ergonomically designed, so it still has a comfortable feeling in your hand. Despite its size, the portable vape has a surprisingly small herb chamber, which limits the length of your session before you need to reload.
- Ease of Use - Even if you've never picked up a vaporizer before, you can use the Vapir NO2 Portable Vaporizer with ease. The controls are simple, and the mouthpiece makes drawing very simple and comfortable. The vapor flows continuously without any resistance. While this means that it's easy to take a deep draw, it does have a downside; vapor continues to leak out of the mouthpiece between hits, so you have to complete a session quickly, or turn the unit off to avoid wastage.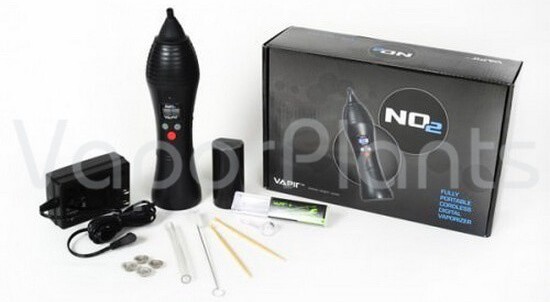 - Heating and Temperature Regulators - The Vapir NO2 Portable Vaporizer has digital heat controls, giving you the ability to adjust the temperature right down to the degree. While the vaporizer holds its temperature well, it is on the hot side, so you may need to vape at a lower setting than what you might with another vape.
- Power Supply - One of the best things about the Vapir NO2 Portable Vaporizer is that you can vape with the unit plugged into the wall for as long as you wish. When unplugged and running on the battery, the vaporizer can be used for about an hour continuously, which is about average for a portable medicinal weed vaporizer. There is a car charger accessory available for replenishing the battery on the go.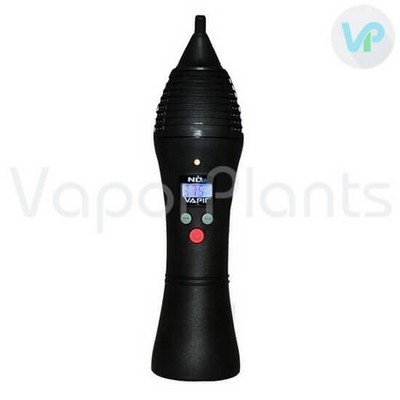 Pros of the Vapir NO2 Portable Vaporizer
Only two pieces for easy filling
Good vapor quality
Very rapid heat up time
Adjustable heat settings
Can vaporize with it plugged into the wall
Ergonomic design for a comfortable fit in your hand
Car charger is available
Cons of the Vapir NO2 Portable Vaporizer
Expensive when sold at full price
Larger than some portable vaporizers
Runs a little hot
Smaller herb chamber than some other portables
Vapor continues to flow between draws, making it necessary to vape fast
The Vapir NO2 Portable Vaporizer would be a good investment for either a newbie or a more experienced vapor enthusiast. It's most ideal for those who plan to vape primarily at home due to its size. The overall rating for this vaporizer is 82/100. You can learn more about it, and pick one up at a great low price at VaporPlants.com.
Vapir No2 Dry Herb Vaporizer Video Review
Buy Vaporizers and Vape Pens from VaporPlants.com