Using a vaporizer in places where permitted can allow you to benefit from the active compounds without exposing yourself to all of the harmful effects of smoke. At VaporPlants.com, we have a huge selection of products available with options to suit every need available at highly competitive prices.
3 Main Vaporizer Options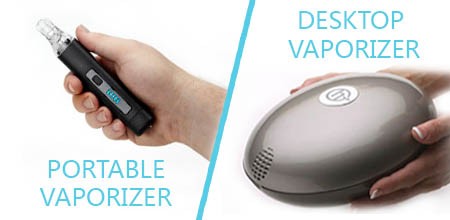 The first thing that you need to decide when selecting vaporizer is which of the main types of vapes is right for you.
1. Portable Vaporizers - are small vapes which are usually powered by a rechargeable battery; however, some portable vaporizer models run on butane or are heated by a lighter. The main benefit of the unit is that it can be used on the go, as it does not require electricity to operate. These are best for those who want to enjoy vaping on the go but still want a high level of efficiency.
2. Vaporizer Pens - are very compact and run on a battery. A rechargeable vape pen is the most compact way to vape, and the easiest type to carry. Dry herb, wax or oil pens usually hold less material than a portable, so these will require more frequent refilling.
3. Desktop Vaporizers - are devices that are powered by electricity supplied by an electrical outlet. Table top models typically are the most efficient and produce the best quality vapor. These vaporizers are ideal for people who only use herbs when they are at home.
Vaporizers for Different Materials
Another important consideration when you are shopping for a vaporizer online is what you want to vape. There are three types of materials that can be vaped: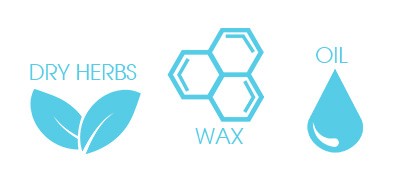 1. Dry Herbs - nearly all desktop vaporizers are herbal models, and many portable vapes are as well. You can also find many vaporizer pens compatible to vape herbs.
2. Wax Materials - wax vaporizer pens are the most common types. There are also a small number of portable and desktop models that can be used to vaporize wax.
3. Oils - oil vaporizers are usually used in place of cigarettes. Most of the best liquid vaporizer products are small rather than large portables or desktops.
Types of Vapes Heating Elements
One final thing to consider when you're selecting a vaporizer is whether you would prefer a conduction vs convection. In a conduction method, the heating element touches the material for direct heating, while in a convection vaporizer, material is heated indirectly by warm air inside of the heating chamber. Each type has its own benefits and drawbacks:
Benefits of Conduction Vaporizers
1. Speed - herbs, wax, and oils become hot and vaporize very quickly, so you can begin to vape fast.
2. Cost - most cheap wax, oil, and herbal vaporizer models use conduction heating.
Drawbacks of Conduction Vaporizers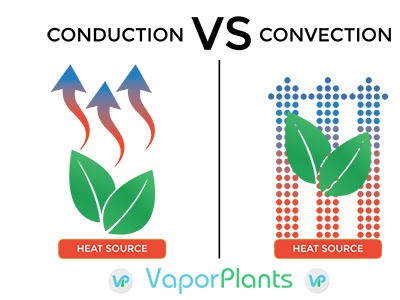 1. Reduced Efficiency - conduction method may leave some of the material unvaporized. This is particularly true for dry herbs.
2. Risk of Combustion - your material burning rather than vaporizing is greater with a conduction vaporizer because the material is in close proximity to the heating element.
Benefits of Convection Vaporizers
1. Efficiency - passing hot air through material allows for even heating for a more efficient vaping.
2. Vapor Quality - convection vaporizers pose less of a risk of combustion and can provide a steadier flow of vapor.
Drawbacks of Convection Vaporizers
1. Cost - convection systems involve more parts, and are therefore, usually more expensive.
2. Lack of Speed - these will take longer to warm up, but the best models can still reach working temperature in 1 minute or less.
Whether you're looking for the best vaporizer dry herbs, waxes and/or oils, you can count on VaporPlants.com to help you find the best vaporizer for your needs. As the best online vape store, we're here to help you compare all of the types of vaporizers available for your needs, and help you select the right option, whether it's the best cheap vape pen, or the best portable from a luxury brand. Contact our vape store online via email or by phone for assistance. You can also check out our articles on topics like how to smoke wax and our reviews of many vape pens and top portable vaporizers.
---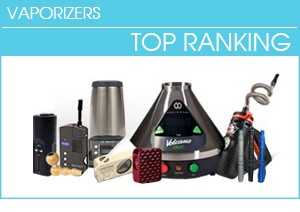 Best Vaporizer
A perfect collection, consisting of all of the best desktop and portable vaporizers which have received top vaporizer review scores from our customers and our staff; this collection is great for anyone who wants to see what others feel are the top vaporizers.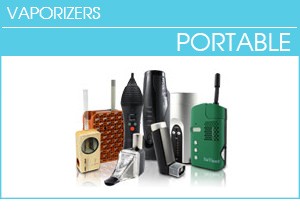 Portable Vaporizer
These handheld vaporizers may be used on the go to vape dry herbs, waxes, and oils; powered by rechargeable batteries, butane, or a flame rather than a standard electrical cord. Portable vaporizer is generally heavier, larger in size, and usually a lot more efficient than vape pens.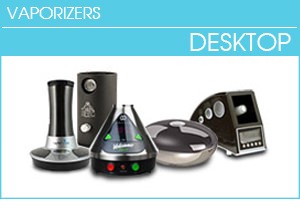 Desktop Vaporizer
Desktop vaporizers are powered by electrical wall outlet current. These are generally intended for indoor home use. Nearly all models can be used to vaporize dry herbs, and some are compatible with waxes & concentrated oils vaping. Table top vaporizers can be either forced air, whip-style, or dual.
---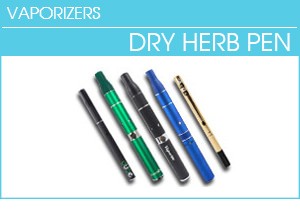 Dry Herb Vaporizer
Powered by a rechargeable battery, dry herb vaporizers are slender and elongated like e-cigarettes to be used to vape aromatic blends. Like any vape pen, herbal pen is very compact and is easy to use on the go. Most herb vape pens are designed for convenient vaping on the go rather than for efficiency and performance.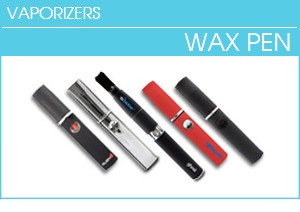 Wax Pen
A pen-shaped, compact vaporizer powered by a rechargeable battery, wax pens are used for vaporizing wax and waxy oil concentrates. Dab pen style resembles an e-cigarette, but is not meant to be used for e-liquids. Designers main focus when making any wax pen, is to make it as simple to use on the go as possible, with less focus on performance.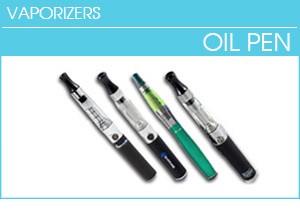 Oil Pen - eCig
Oil Pens are rechargeable battery-powered, highly portable, pocket "Electronic Cigarettes". Also knows as e-liquid vape pen: used to vaporize oils, and e-juices. These are very small and similar in shape to an e cigarette. With oil pens, emphasis is on creating a vape pen that is very easy to use on the go, not on providing the most efficient vaping experience.
5 Vape Tips – How to Efficiently Vaporize Dry Herbs
Both desktop and portable vaporizers have become an increasingly popular. People are doing away with smoking it and realizing the benefits and pleasure of vaping instead. But what exactly is a vape? And how do they work?
Vapes come in many sizes and shapes; some are big and use power adapters and are meant to be used at home on a desk or table top. There are also compact, portable, battery-powered vapes meant to be taken with you on the go. The primary use and function of all vapes are the same, though.
Vaporizers heat your herbs to a temperature that stays below the combustion point. The vaporization point falls between 200 and 392 degrees Fahrenheit. At these temps, the compounds in loose leaf are activated and turned into vapor. This produces a smokeless gas that you can inhale that does not contain any carcinogens or bad compounds like smoke does. They can be used for dry herbs or concentrates alike.
5 Tips on Packing an Herbal Vape
Dry your herbs. You can dry them in a jar, by wrapping them in a paper bag, or by putting your herbs in a container of rice.
Grind the herbs finely. This delivers more surface area thereby giving the vaporizer a chance to heat and vaporize your material thoroughly for best results.
Pack tightly, but not too tightly. You want to give your vape a little room to breathe, but you don't want to block the airflow.
Inhale slowly. To maximize vapor and give your heating element more time to produce it, you want to take slow, long pulls. Some people call this sipping, and it will deliver better clouds than trying to rapidly rip (inhaling quickly) on each hit.
Use a screen. Glass or mesh, it doesn't matter, but you need to use something to protect your material from the heating element. This is less of a concern with convection vaporizers.
Use a Herbal Grinder!
All you have to do is open the grinder, insert the herbs, and close the top. If it's a 3 or 4 piece grinder, the finely ground herb will rest in a chamber that you just have to open up and empty out the material. There are also grinders with a kief catch that are made up of 3 or 4 parts. It is recommended that you grind upside down for a finer grind as this keeps the herb in the grinding chamber for as long as possible.
Increasing the Effectiveness of Vapor
Aside from grinding, make sure you are properly hydrated. Vapor is easier to absorb by the body when it is full of water, so drink a glass of water before your session. Breathing matters, too. When you inhale the vapor, you should hold it in your lungs for around 5 seconds to absorb every compound it contains.
Vape Temperature Is Important
It has been said that 330-370 degrees Fahrenheit is perhaps the best temperature to vape at, if you want to preserve flavorful terpenes and promote smooth vapor production. When the temperature is too high, the vapor is harsh and releases all of the compounds at once. Plus, if the temperature is too high, anything over 390 degrees fahrenheit, you run the risk of combustion.
Overall, vaping is a healthier alternative to smoking. You don't get the tar and other nasty compounds when you vape like you do with combustion. You also don't get that shortness of breath or lightheadedness, and it's much more discreet than smoking, and it can be done just about anywhere. This doesn't even take into account that if you actually want to taste your bud, vaping is the way to go. Combustion just burns off all of those delicate terpenes. Give it a shot. You may be surprised by what you've been missing.