Over the years, many vaporizer companies have tried to come up with innovative ways to disguise portable vaporizers to make them less conspicuous. There are vapes that look like drinking flasks, flashlights, and even large Zippo lighters, but all of these medicinal marijuana vaporizer units can raise suspicions. After all, drinking flasks are legal, but drinking alcohol in the middle of the day isn't something everyone wants to be seen doing, and flashlights and lighters aren't meant to be put to your lips.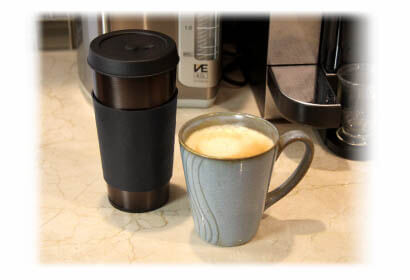 Finally, though, there is a vaporizer for weed, medicinally prescribed or legal to use recreationally, that is very discreet and inconspicuous--the Vapor Cup Vaporizer.
Basics of Vapor Cup Vape
- Price - The Vapor Cup Vaporizer sells for around $300, making it a rather expensive portable vaporizer. For the right buyer, though, the weed vaporizer is worth the money, and you do get many accessories in the starter kit.
- Vapor Quality - For what some are calling a novelty weed vaporizer, the Vapor Cup Vaporizer has exceptionally high vapor quality. To get the best vape, use the glass straw, which is nonreactive and gives you very good tasting, very smooth vapor vapor. The vinyl and two plastic tubes can slightly affect the taste of vapor, but they are more durable options for on the go use. No matter which mouthpiece you use, you won't have to worry about combustion with this unit, as it is a true herbal vaporizer.
- Guarantee - The Vapor Cup Vaporizer has a one-year warranty on its electronics and a 6-month warranty on the battery. This is a little short for a cannabis vaporizer that one pays so much for. Some users worry about the reputation of the manufacturer, as they are entirely new to the market and have no previous experience in herb vaporizer design. This isn't a reason to pass up the Vapor Cup Vaporizer, but it is something that you should be aware of before you buy.
- Prep Time - With a fast heat-up time and an easy-to-load design, the Vapor Cup Vaporizer is ready for use quickly. Herbs should be finely ground prior to loading into the dry herb vaporizer to ensure efficiency and avoid wasted material, use a herb grinder for best results.
- Ease of Use - The Vapor Cup Vaporizer is easy to use and has no noticeable draw resistance with any of the mouthpieces. A beginner could set this unit up and use it perfectly on the first try.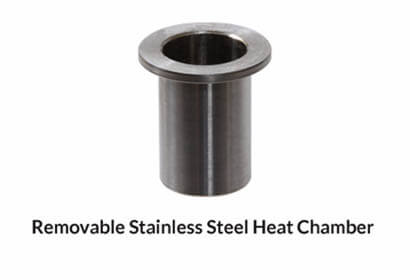 - Portability - It's the discreet design of the Vapor Cup Vaporizer that really shines. The herb vaporizer looks identical to a travel tumbler cup and will even fit into a cup holder. When you draw from the straw, no one will know that you're taking a hit from a vaporizer for weed, particularly if you use one of the black plastic straws. The unit is large; you can't carry it in your pocket the way that you can most portable vaporizers.
- Heating and Temperature Regulators - The Vapor Cup Vaporizer has a digital display that allows you to preset your temperature with a range of 200 to 400 degrees Fahrenheit. The unit maintains a steady temperature.
- Power Supply - With a 2-hour battery life, the Vapor Cup Vaporizer allows you to enjoy several sessions before you need to recharge the convection vaporizer. The charging time is lengthy, as it can take up to 7 hours for the battery to be fully replenished.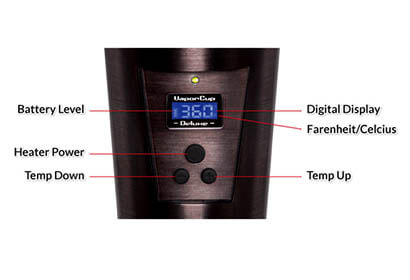 Pros of Vapor Cup Vaporizer
Very discreet, inconspicuous design
High quality vapor in terms of taste and smoothness
Adjustable temperature settings
Long battery life
Simple to use with no draw resistance
Cons of Vapor Cup Vaporizer
Expensive price
Mouthpieces affect vapor quality
Short warranty
Company does not have an established reputation
Long charge time

If you're most concerned about being able to vape discreetly on the go, and don't mind having a larger dry herb vaporizer to carry, the Vapor Cup Vaporizer is an excellent investment. For a marijuana vaporizer designed to resemble an everyday object, its efficiency and performance are unbeatable, and the 2-hour battery life makes the unit perfect for those who want to be able to enjoy many sessions at home or on the go.
Your home for the best vaporizer, vape pen, and vaping products
Buy Vaporizers and Vape Pens from VaporPlants