Arizer is already known for their vaporizers for dry herbs, and one of their newest models is the Arizer Air. This unit is a smaller version of the very popular Arizer Solo. It is a sleek portable model that promises to provide exceptional vapor quality. Backed by an industry-leading warranty, the herbal vaporizer has a premium ceramic heating chamber and a replaceable, removable battery. Although it requires a gentle touch due to its many glass components, the Arizer Air vaporizer is an excellent investment.There are a number of benefits to making this your choice, as well as some drawbacks of which you should be aware of.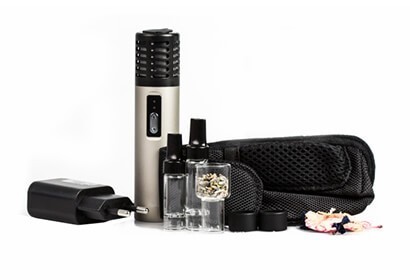 Pros
Superior vapor quantity, taste, and potency
High quality ceramic heating chamber with a lifetime warranty
Removable battery for easy replacing
You can vape while you recharge the battery
Adjustable temperature settings
Only one button to operate
Cons
One of the more expensive handheld units
Glass stem needs cleaning frequently
Glass parts can break easily
Vapor runs on the hot side
Not as smooth as you'd expect at this price point
Larger in size then others
| | |
| --- | --- |
| | Arizer Air |
| Price | $219.00 |
| Materials Type | Dry herb |
| Heating Style | Convection |
| Oven Material | Stainless Steel  |
| Vapor Path | Glass |
| Removable Battery | Yes |
| Battery Life (Usage time) | Can run for 50 minutes |
| Charger | Wall outlet |
| Charge time | 2-3 hours |
| Bluetooth / APP | No, but it features a remote control |
| Heat-up Time | 3-5 minutes |
| Easy to Load? | Yes |
| Draw Resistance | Low |
| Vapor Production | Moderate |
| Vapor Smoothness | Moderate |
| Flavor / Taste | Excellent |
| Odor Level | Low |
| Precise Temp Adjust / Temp Range | 356 and 410 degrees Fahrenheit that can be changed in 1 degree increments |
| Vape While Charging | Yes |
| Warranty | Ceramic heating element: lifetime; Entire unit: 3 years |
In-Depth of the Arizer Air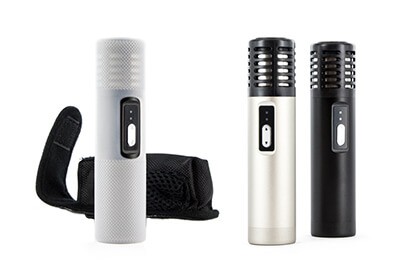 - Price - The Arizer Air retails for about $280, making it one of the more expensive handheld models, but still lower in price than the Elevape, the MiniVap and the Storz and Bickel portable vapes. This portable, one of the best vaporizer models is geared more toward those who are experienced with vaping rather than beginners because of its price.
- Guarantee - Arizer warranties the ceramic heating element in the Air vaporizer for a lifetime, which is much longer than what you'll get from most other non-desktop models, even those that are more expensive. Still, it's important to note that the glass components are not covered by the warranty.
- Prep Time - You can get the Arizer Air loaded very quickly, as it's not complicated to pack. It reaches working temperature in 90 to 120 seconds, which is about average for a hand-held device.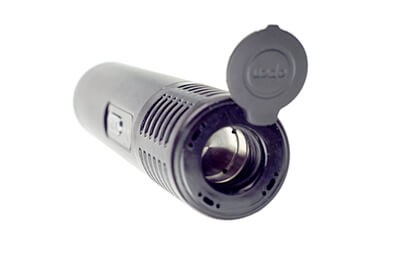 - Reputation – With this portable vaporizer, you do get high quality vapor production. The clouds from this device are very full, and the taste is flavorful and pleasant. You'll enjoy full potency from your dry herbs with this vape, and it's very efficient, meaning there is no wastage of material. The one drawback is that the vapor can be hot and harsher than what you'd expect from a vaporizer of this price.
- Portability, Size and Privacy - The Arizer Air is undoubtedly smaller than the Solo vape; however, it's not truly a portable model. It is still rather large in size, and isn't the best choice for someone who wants a discreet vape for use on the go. Also, the glass parts can easily get broken if you travel with it, and they are not covered by the warranty. It's more geared toward someone who wants a cordless unit to use as an alternative to a desktop vaporizer at home.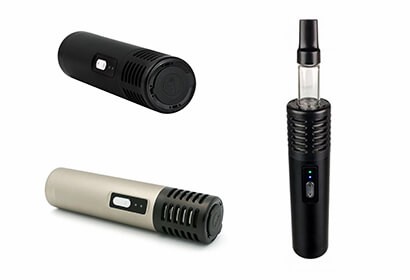 - Ease of Use - In terms of operation, it is straightforward, as it has only one button. The handheld vaporizer does have more resistance than some other models, so people with breathing problems may not be able to use it to get the largest draws possible. This model will require frequent cleaning because the glass can become dirty after just a few uses.
- Heating and Temperature Regulators - It has five temperature settings, making it possible to customize the heating level to suit whatever you're vaping. The temperature regulators do a good job of keeping the temperature within range. It's unlikely you'll experience any problems with combustion of the dry herbs.
- Power Supply - The battery in the Arizer Air is removable, so you can replace it instead of having to replace the entire vape when it dies. The Arizer Vaporizer only supplies about one hour of vape time on a full charge; however, it has pass-through charging, meaning you can vape while it's plugged into the charger.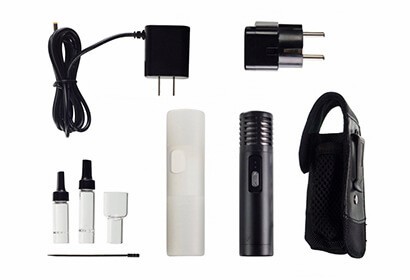 Raising the mouthpiece will give the vapor further to travel, making it cooler and smoother.
For best results, make your grind fine.
Always pack the vaporizer heating chamber full and then use the stirring tool to pack.
Soak the glass stem in alcohol after 3 or 4 sessions to keep it looking clean.
Brush out the heating chamber each time that you use it to keep the vape in good condition.
Because the glass stem is so fragile, it's a good idea to buy a spare or two and keep them at the ready.
You can learn more about Arizer Air by checking out its product page here at VaporPlants.com!