Typically when you're shopping for a vaporizer, you purchase a complete wax pen with an atomizer, a mouthpiece, and a battery. The Atmos Kiln RA provides a different way to shop for a wax pen. This atomizer from Atmos is sold on its own, and has 510 threading that can be used with a wide variety of vape batteries. Read on to learn more about the benefits and drawbacks of this unit.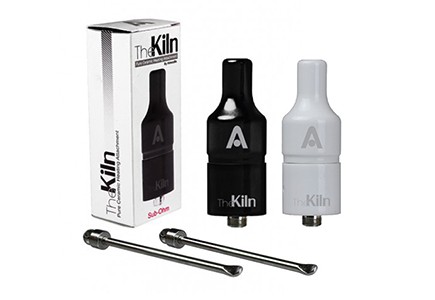 Pros:
Very impressive vapor quality
Economical when performance is considered
Long warranty
Easy to load
No resistance or clogging
The outside stays cool
Cons:
Oddly shaped
Less visually appealing than other atomizers, such as G Pen
Very small chamber
High heat means an increased risk of splattering, making for a messier model
In-Depth of Atmos Kiln Atomizer
- Price - the Atmos Kiln Atomizer sells for around $40, making it one of the more expensive atomizers. Still, you can purchase it and a compatible battery together for under $100, and when you consider the performance of the vape portion, it's a good investment.

- Vapor Quality - the Atmos Kiln Atomizer features advanced heating technology with a ceramic disc used in place of a traditional rod. This allows for more even heating at a higher temperature than what you'll get from a wax pen. As a result, using the Atmos Kiln means getting unbeatable performance. Clouds are large, smooth, and clean tasting, and the potency is incomparable.
- Guarantee - the Atmos Kiln Atomizer comes with a 5-year warranty, which is rather impressive for an vape atomizer.
- Prep Time - with the Atmos Kiln Atomizer, you won't have to wait for vapor production. The atomizer gets hot instantaneously, and the chamber is very easy to load. One drawback is that the chamber is very small, so you can only load a very tiny amount of material at a time. For a long session, expect to reload at least one time.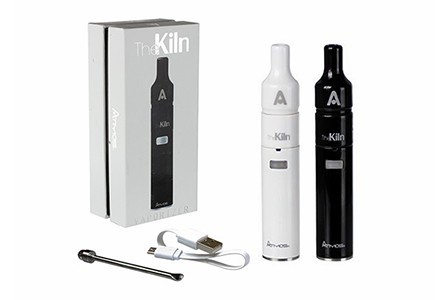 - Portability - you can't really determine how portable the Atmos Kiln atomizer will be, as the battery that you choose will largely determine the size of your complete vaporizer pen.
- Ease of Use - the Atmos Kiln Atomizer has excellent air flow technology, so it doesn't get clogged. There is no draw resistance, making this a good atomizer for someone with breathing problems. One drawback is that the high heating levels can cause the wax to splatter inside the atomizer, making clean-up a little more challenging.
- Heating and Temperature Regulators - although the Atmos Kiln Atomizer can get much hotter than the atomizers used in a traditional wax vape pen, the outside stays cool to the touch.
The Atmos Kiln Atomizer is the ideal atomizer vape for anyone who wants to get the absolute best experience when vaping waxy concentrates. The only major drawback is that you have to choose your own vape battery when you're using this vape atomizer; however, we'll be happy to help you select the right one to meet your needs.