Ceramic disc technology is one of the newest innovations in the world of vaporizer pens. The discs allows it to heat up evenly and help prevent combustion, but most take a while to heat up and produce scant vapor clouds. The latest wax vaporizer pen from AtmosRX, the Atmos Kiln Kit has changed that with its revolutionary design.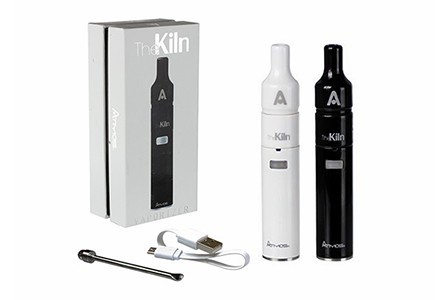 Pros:
Vapor production begins quickly
Good vapor quality in terms of taste and smoothness
More vapor than other ceramic disc vapor pen models
Stays cool to the touch
Very good air flow
Battery is easy to load
Cons:
Some people find the shape of the vape pen unappealing
Splattering and bubbling make the vapor pen messy
Only one temperature setting, but can be used with a variable voltage battery
In-Depth of Atmos Kiln Kit
- Price - The Atmos Kiln Kit retails for about $70, which is an average price for a good quality wax pen vaporizer. When you consider the fact that it has a ceramic disc atomizer, it's actually one of the most affordable higher end devices.
- Vapor Quality - With the Atmos Kiln Kit, you'll get much larger vapor clouds than with a conventional dab vaporizer that uses ceramic disc heating. The vapor produced is potent and its smoothness and flavor are above average.
- Guarantee - Atmos RX offers a 5-year warranty on all of their vaporizers, and that's a longer guarantee than what you'll get on most portable units.
- Prep Time - One of the best things about the Atmos Kiln Kit is that the wax pen is ready for use instantaneously, eliminating the lengthy wait that comes with most ceramic disc vaporizer for wax models. The unit is also rather easy to load, but it does have a relatively small chamber, so you may have to refill for longer sessions.

- Portability - The Atmos Kiln Kit is slightly bigger than some other wax models, but it's still easy to carry. As a side note, some people complain about the bulbous top piece on the vape pen; however, this may not bother most people.
- Ease of Use - With the Atmos Kiln Kit, you only have a single button to push, and there is very little resistance, ensuring an easy draw through the vapor pen. One downside with this wax vaporizer pen is that it can be messy. You'll need to clean it frequently, because wax will splatter inside the heating chamber.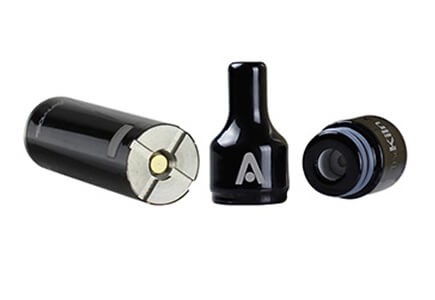 - Heating and Temperature Regulators - In its standard form, the Atmos Kiln Kit only has one heat setting; however, you could use it with a 5 to 13 watt variable voltage vape battery to change the temperature if you wish. Compared to some other wax pen units, the Atmos vape is much better insulated, and won't get hot to the touch when you use it.
- Power Supply - With the standard Atmos Kiln Kit, you'll receive a 950 mAh lithium-ion battery. The pen vaporizer has a unique spring loaded connector that makes it very easy to assemble. The battery life and charge time of the Kiln are about average.
With the Atmos Kiln Kit, you can benefit from the efficiency of a ceramic disc vaporizer for wax, without having to wait forever to vape or settle for small vapor clouds. Because this model is so easy to use, it's a great unit for beginners, but the high quality of its vapor makes it a good economical unit for more experienced users as well.