A desktop vaporizer allows you to enjoy the purest, best-tasting vapor and get the most out of your material. It is a big investment, so you want to ensure that you select the best desktop vaporizer for your needs. Our tabletop vaporizers reviews below can help you select the unit that is right for you.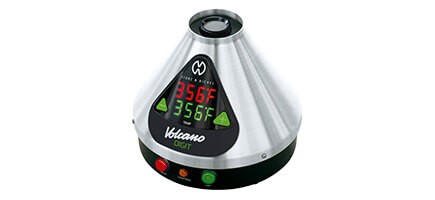 Volcano vaporizer is considered to be the Cadillac of desktop vaporizers, the Volcano Digit comes in on top in terms of vapor quality. It is one of the oldest, if not the oldest, desktop vaporizers for dry herbs and was produced in the year 2002. The taste and smoothness of vapor produced are truly unparalleled, and the balloon fills quickly and consistently. The heavy-duty stainless steel craftsmanship of the Volcano vaporizer desktop ensures years of use and enjoyment. The digital display puts you in full control of the experience, as you can select your desired temperature, and then easily monitor the actual temperature inside the unit with ease to keep everything running according to your preferences. The only real drawback is its high price tag, which might be beyond the budget of those new to using a desktop vaporizer. You are getting what you pay for, however, so if you have the funds, this is a durable and resilient tabletop vaporizer that is beyond worth the investment. Do keep in mind that this unit is only a forced air desktop vaporizer. If you are the type that prefers to use a whip for direct inhalation, another model will be better for your needs. That said, convection heating means no combustion, so choose wisely. A less expensive version of the Volcano, called the Classic, is also available but it has a manual temperature knob that can be a bit more difficult to set properly.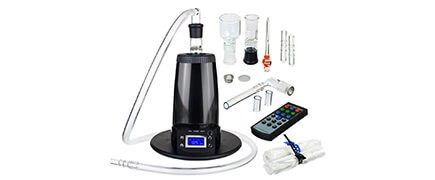 Arizer Extreme Q is incredibly economical, giving you the flexibility to vape the way that you want at each session. You can use the forced air convection heating system to evenly heat your material and fill balloons with vapor without any fear of combustion; the fan included in this desktop vaporizer is incredibly powerful, so the bags fill in only 90 seconds. Conversely, you can also draw directly from the unit with the included whip. Extreme Q heats up quickly, reaching its working temperature in just a few minutes so that you are able to enjoy the abundant vapor in no time at all. The unit has a digital display that lets you set an exact temperature and control it with ease. Compared to other forced air desktop vaporizers, the Arizer Extreme Q is very quiet and discreet, and it comes with a convenient remote control that simplifies operation, making it one of the best desktop vaporizers for new vapers getting into using a desktop vaporizer. A swivelling connection allows you to move while you vape, and the hands-free mode lets you sit back and relax. Just make sure to start off at a low heat; at higher temperature levels this model could cause combustion. Another trick to using this vaporizer desktop is to ignore the ready light. Waiting 2 full minutes before vaping will ensure the best possible experience for you and your friends.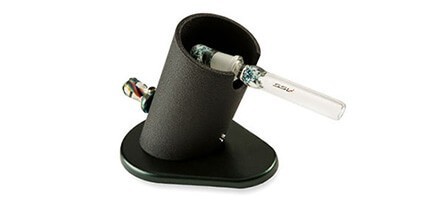 Silver Surfer vaporizer is sleek in design that is both straightforward and simple, the Silver Surfer is an excellent starter tabletop vaporizer for those who are not quite sure where to begin when it comes to desktop vaping. The Silver Surfer features a reverse 90-degree angle heater cover that makes it easy to insert the included whip and makes the vapor that much smoother. While the unit does require electricity to operate, it is smaller in size and lighter than most desktop vaporizers, so it can be taken with you on the go. Charging it is simple and it can last for a very long time without being plugged in. On the Silver Surfer desktop vaporizer, the temperature can be set to your preferred levels by way of a rotary knob. It is important to note that there are no temperature markings on the exterior, so it is good to pick a temperature you like and stick with it. Available in an array of stylish colors, the desktop vaporizer looks stylish sitting out on your table. Although it is a moderately priced model, it lacks the dual functionality found in some less expensive models. Another thing to remember about this desktop vaporizer is that its glass knob is fragile and could break if you are not careful. Like the previous model, this unit is powerful and could combust your material. Start off at a lower heat setting and increase as needed to get the best results.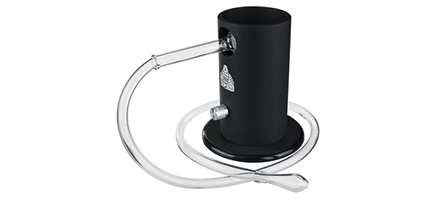 Da Buddha vaporizer is a tabletop that is yet another masterful creation from 7th Floor Vapes. A steal at under $200, the Da Buddha vaporizer desktop is one of the most affordable models found on the market today. Though it is a lower end desktop vaporizer in terms of price, it functions just as well as a high-end desktop model. While its temperature controls are not as precise as most other desktop units on the market and its vapor quality is about average, the Da Buddha desktop vaporizer does allow you to enjoy the convenience of hands-free vaping with its ground glass connections. These connections are durable and reliable and make for a purer, cleaner vaping experience. It is a very simple unit to use and a good choice for beginners looking for an affordable first desktop vaporizer. One nice feature of the desktop vaporizer is the angled heating element that ensures that herbs heat evenly without combusting, helping you to preserve your materials and save money. While the design is quite similar to its sister model, the Silver Surfer, the Da Buddha does have more limited functionality, as it can only vape herbs and is not compatible with concentrates such as waxes and oils. Also like the other highly popular 7th Floor desktop vaporizer, the Da Buddha comes in a number of colors and looks stylish displayed on a table. An aromatherapy dish is included for more relaxing sessions.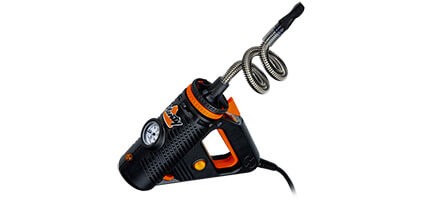 Plenty vaporizer is developed by renowned desktop vaporizer creators and manufacturers, Storz and Bickel, the Plenty is great for those who want a vaporizer that is a bit more diverse than standard a desktop vape. The Plenty is unique in that it is not a traditional desktop vaporizer. Instead of a bag or a whip, the unit has a mouthpiece for direct drawing that is designed to lift off the table to hold in your hand when you are ready to vape. Some people who have used the Plenty absolutely love this feature, while others prefer to use a standard whip or a bag that is reminiscent of other desktop vaporizers, such as the Volcano Vaporizer that is made by the same company. The Plenty is ultra-durable, stable, and will not wobble on the tabletop while it produces very high quality vapor. This unit does allow you to set the temperature to your tastes, but it has an analog dial rather than a digital display so you are not getting total control offered other models. Like its sister model, the Plenty can continue to work like new for years to come. For flexibility, the desktop vaporizer boasts seven temperature settings, and even on the highest one, you are unlikely to experience any combustion. While some people feel that the unit is overpriced, those who want to use a handheld model while getting a desktop like vaping experience will get plenty from the Plenty.
The Arizer V-Tower is a sleek and beautiful desktop vaporizer that looks as good as it performs. Ultra lightweight and small, this durable and stable tabletop vaporizer has been sized to conveniently fit on any desktop, counter space, table, or any other convenient surface in your home. The Arizer V-Tower features a control panel with an LCD desktop vaporizer screen. This screen displays the temperature as you are cycling through using the up and down buttons. The other two buttons on the front are the menu and the power buttons. The menu button allows you to select from the different settings available while the arrow buttons allow you to adjust these settings. This desktop vaporizer has a huge temperature spectrum between 122 and 500 degrees Fahrenheit. Use the up and down arrow buttons to increase or decrease the temperature to adjust it to your liking. You can do so as precisely and as specifically as you choose with the ability to adjust the temperature in one-degree increments. Included with this kit is a glass cyclone bowl, a glass aromatherapy dish, and a glass stirring tool that further improve the flavor you get from the Arizer V-Tower. It also comes with a 3-foot silicone whip, an extra dome screen, and an extra flat screen.

A forced-air desktop vaporizer is one of the two main types of tabletop vaporizer designs and is considered by many to be a superior way to vape. This type uses an internal fan or an air pump to circulate air inside of the heating chamber. Also called a balloon bag vaporizer desktop, as it releases vapor into bags or balloons attached to mouthpieces and allows you to draw at your leisure. At VaporPlants, we carry many of the forced-air desktop vaporizer models, like the Volcano. Whether you prefer a dry herb desktop vaporizer, or a model that also allows you to vape oils and waxes, we have the perfect forced-air model to meet your needs.
A whip vaporizer is a type of desktop, allowing you to draw directly on demand from the heating chamber using a device called a whip. The whip includes three different parts: a wand for holding your material, a mouthpiece that you draw through, and a hose that connects the two parts. In our collection of whip desktop vaporizers, you'll find models with and without ground glass connections. A ground glass or hands free whip style has a special connector that keeps the wand of your desktop vaporizer whip in place while you draw, so that you don't have to hold it.
Whips vs Wands Desktop Vaporizers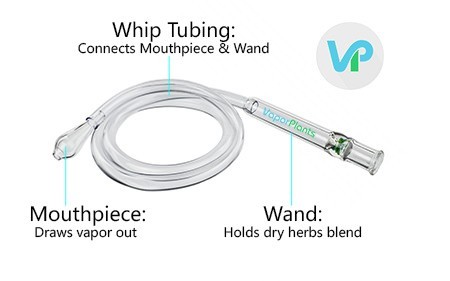 As you begin to shop for and compare various types of tabletop vaporizers, you'll soon notice that the terms "hands free" and "standard" are often used to describe these devices. Although it's common knowledge that a hands free dry herb desktop vaporizer allows you to vape more easily. The actual mechanics behind how this device works may remain unknown to many new vaping enthusiasts. Because of this, we've created this article to provide a brief introduction to both hands free and standard wands. Hopefully, you will be able to use this knowledge to find the perfect desktop vaporizer that meets your needs and expectations! Although there is no "perfect vape", these products may help you have an excellent experience with vaping!
Whips for Desktop Vaporizers
Desktop vaporizers that are given the "standard" or "hands free" label are those that rely on whips to draw the vapor out of the chamber. If you are looking to buy a vaporizer, it's important that you become familiar with this terminology! A whip consists of three parts: a wand that holds the herbal blend, a mouthpiece which provides suction in order to draw the vapor out of the chamber, and the whip tubing that connects the two pieces. When comparing the attributes of standard whips and hands free whips, the difference lies in the wand itself rather than any other component of the whip's design.
Hands Free Wands: The Good
Hands free wands are designed to remain stable inside of the desktop vaporizer without requiring the user to hold it in place. These are usually large units and would classify as a tabletop or a desktop vaporizer. In order to make this possible, the feature of hands free ground glass wands connection, a somewhat courser texture that provides increased grip and security. The hands free desktop vaporizer's connection point has also been converted into ground glass. The texture of the two connection points creates friction which helps to hold the wand in place, allowing you to keep your hands free when vaping. Some people also like the look of a ground glass wand compared to the standard wand.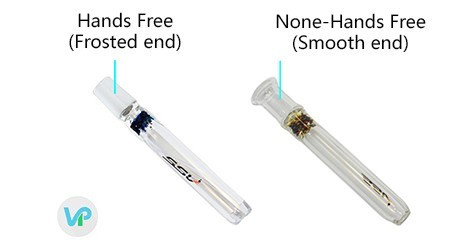 Hands Free Wands: The Bad
While many people prefer hands free desktop vaporizers and wands due to the convenience they offer, it's important to note that these devices do have their drawbacks. The friction that holds the wand in place also makes it impossible for to move or rotate the wand inside of the desktop vaporizer. As a result, some of the herbal blend may not fully vaporize. Wear and tear to a table vaporizer caused by frequent use, as well as low quality parts and vibrations can all lead to the reduced effectiveness of the ground glass connection, which can cause the wand to fall out of the desktop vaporizer. If this occurs, complete breakage of the wand may result. The dry herb blend itself may also fall out of the heating chamber.
About Standard Wand Desktop Vaporizers
Unlike the hands free desktop vaporizers, the standard desktop vaporizer features smooth connections throughout the hardware. The smooth surface is quite slippery, requiring users to hold onto the wand while vaping. The standard tabletop vaporizer design has remained quite popular due to the fact that they do not have the same drawbacks as more recent hands free designs. Using the standard desktop vaporizer, individuals can optimize the efficiency of their personal vaporizer and avoid the risk of breakage.
A Final Note about Wands for desktop vaporizers
In addition to deciding whether to purchase a standard or a hands free desktop vaporizer and wand, you will also have the opportunity to decide between one and two-piece wands. A two-piece wand features a threaded connection that allows users to open up the device for cleaning. Although a one-piece wand does not have this added feature, it is noticeably less expensive.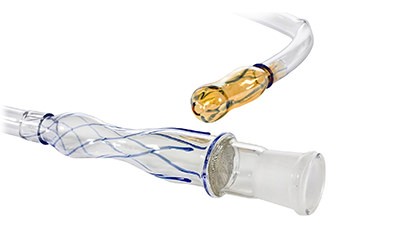 So, which type of wand and desktop vaporizer is right for you? Ultimately, it depends upon your personal preferences. If you're vaping an expensive blend, concerns about wastage may supersede the convenience of a hands free design. If you're only planning to vape tobacco, however, this may not be an issue at all.
In conclusion, a desktop vaporizer can treat you to an ultra-efficient, premium vaping experience, and VaporPlants has all of the best desktop vaporizers to help you find the perfect option for your vaping pleasure. We carry from all of today's best vaporizer brands, including Storz and Bickel, Arizer and 7th Floor Vapes. No matter what your budget is today, we are sure to have an analog or digital model that is perfect for your needs. If you wish to focus on models of a certain price, just click the links at the left to shop by price. Have a preference between balloon bag or whip desktop vaporizers - selection above makes it easier to focus exclusively on forced air or whip-style desktop vaporizers just by looking at pictures. For personal assistance selecting the right style, please don't hesitate to contact us. We believe strongly that our customers should have all of the information they need to find the best desktop vaporizers for their lifestyles, and we look forward to working with all of you!