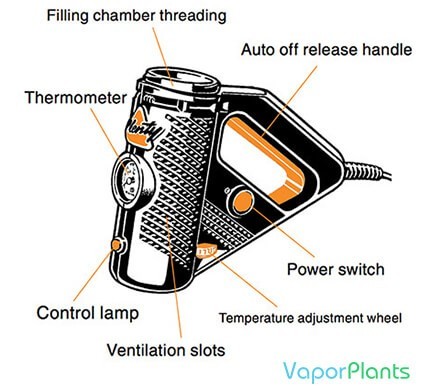 The Plenty is the second model from Storz & Bickel, the company that created the legendary Volcano vaporizer. A very unique design, the Plenty Vaporizer plugs into a wall outlet like a desktop vaporizer; however, it has an attached mouthpiece and a handle, so it is designed to be held in your hand for direct draws. This hand-held vaporizer offers a number of benefits and has a couple of shortcomings as outlined below.
Pros:
Offers the performance of a desktop vaporizer
You can hold it in your hand for improved comfort
Produces incredibly high quality vapor
Extra-large, easy-to-fill herb chamber
Large chamber - Great choice of vaporizer for sharing with friends
Cooling coil makes the vapor pleasing and smooth
Cons:
More expensive than most handheld vaporizers, & many desktop vapes
Not battery-operated, so it is not really portable
Heat up time is long compared to some other handheld vaporizers
Separate heater switch complicates use slightly and will take time to master
Tips for Using the Plenty by Storz & Bickel
To get the most out of this handheld vaporizer, follow these tips:
It's a good idea to leave the mouthpiece in the shape it arrives in as much as possible. This allows for the most efficient cooling action.
If you want to vape only a small amount of dry herbs, place the liquid pad on top of your blend to fill up the chamber.
For best results, simply push the heater switch every time you take a draw. This will ensure that you can continue vaping without interruption.
In-Depth of the Plenty Vape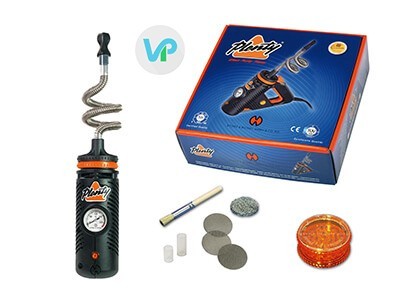 - Price - The Plenty retails for $399, making its price less than the Volcano vaporizer, but significantly more than most portable vaporizers and many other desktop vapes. The price point makes the Plenty an investment model, one that would be best suited to someone who has been vaping for a while, and wants to add some versatility to their vaporizer collection.
- Reputation – When it comes to reputation, you won't find many other vaporizers of any style that are as respected and revered as the Plenty. The handheld vaporizer outperforms many desktop vaporizers in terms of the quantity of vapor it produces and the taste, smoothness, and purity of the draws. Many people feel that it is nearly as good as the Volcano Vaporizer, which is considered the gold standard in vape designs.
- Guarantee - Storz and Bickel warranties the Plenty for 3 years, which is about average for this type of vaporizer. The fine German craftsmanship of the vaporizer will typically result in many more years of use than the length of the warranty.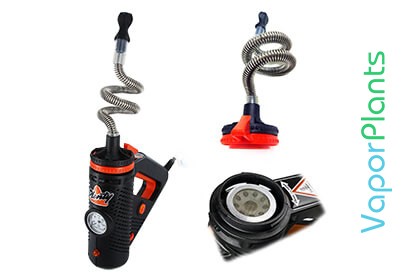 - Ease of Use - The Plenty by Storz & Bickel doesn't have much of a learning curve. You can get pleasing amounts of vapor with very little effort. There is one feature, though, that might be difficult to adjust to at first--the heater ignition button. This button must be pushed whenever the LED indicator light goes out in order to reheat the handheld vape to the set temperature. Once you get in the habit of doing this though, the vaporizer is very easy to use.
- Portability, Size and Privacy - As previously discussed, the Plenty is not a true portable vaporizer, and it is much larger than most portable vaporizers at 8.85 inches by 2.2 inches by 6.1 inches in size. It only weighs 1.4 pounds, so it's still very easy to use. The vaporizer has an odd look due to the cooling coils attached to the mouthpiece. Many people mistake it for a power tool, so it is a little more compact than bowl and box-style desktop vaporizers.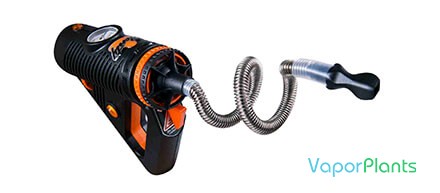 - Prep Time - It takes the Plenty about 5 minutes to heat up. That's about average for a desktop vaporizer but long compared to the performance of some portable vaporizers. The hand-held Storz and Bickel vaporizer has a very large herb chamber that makes for quick and easy filling.
- Heating and Temperature Regulators - The Plenty has a wide range of temperature options from 100 to 420 degrees Fahrenheit, so you can customize the heating levels to suit whatever you're vaping. This unit stays within working temperature range when you consistently use the heater ignition switch during draws. One very innovative feature of the vaporizer is the cooling coil, which makes it much more comfortable and pleasing to vape at the higher temperature settings.
Plenty Mouthpiece Breakdown