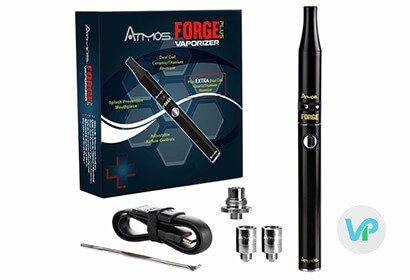 If you're after a vape that produces rich, tantalizing vapor, flavorful draws, incredible portability, and a powerful atomizer powered by an even more robust battery, look no further than the Atmos Forge. This wax pen has everything you need to vape on the go without creating a huge to-do or an even bigger mess.
Pros:
2 dual coil atomizers made from titanium and ceramic
5-year warranty
Incredibly potent and flavorful clouds
Highly portable and compact
USB charger
Splash protection
Cons:
Price might be a bit off-putting
Atmos Forge is discontinued
Rating:

9

/

10

by VaporPlants
To purchase a similar model, click below


Use coupon code 'VPR' to save 10% OFF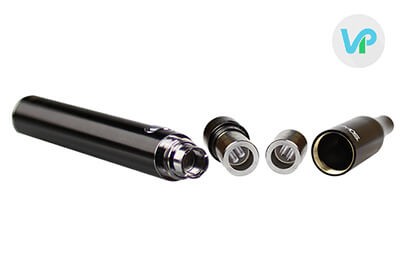 - Price - For its power, the Atmos Forge dab pen vaporizer is worth every cent of the $69 price.
- Vapor Quality - The Atmos Forge produces large, thick, and tasty clouds due to its adjustable airflow coupled with its powerful coils.
- Guarantee - The Atmos Forge wax vape comes with a handy 5-year warranty to ensure your satisfaction for years to come.
- Prep Time - Preparing the Atmos Forge for use takes less than a minute! The kit includes a packing tool to make loading your concentrates a dream.
- Portability - Ultra sleek and portable, the Atmos Forge wax pen vape attachment is incredibly compact, measuring just 6 inches tall. This makes it simple to keep in your pocket and comfortable in your hand.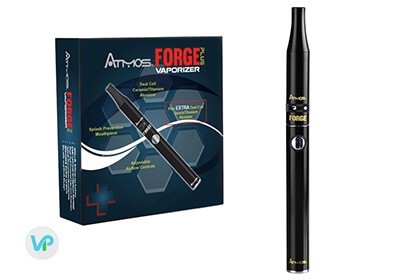 - Ease of Use - This wax vaporizer pen features a splash prevention mouthpiece, keeping your material safely where it belongs while you vape--in the chamber. It is simple to load with the included loading tool and it features one button operation for added simplicity. To pull out the atomizer, simply twist and pull. The same goes for the mouthpiece.
- Heating and Temperature Regulators - Atmos Forge Vape comes complete with 3 separate dual coil atomizers. These heating elements bring together the power of a titanium coil mixed with the great flavor production that you have come to expect from ceramic rods. This allows the Atmos Forge to be one of the most efficient wax pens on the market.
- Power Supply - The power comes from a robust 950mAh lithium ion battery that has 510 threading for easy attachment. There is a USB charging port, making charging anywhere a simple task.
The Atmos Forge is an incredible vaporizer for wax that includes what you need to get started taking dabs in less than a minute. It combines the power of a 950mAh battery and ceramic and titanium atomizers to bring you a powerful and flavorful vape pen every single time. The Atmos Forge is very portable and can easily be brought with you on any adventure, making this an oil vaporizer you won't want to skip out on.

How Atmos Magna Differ from Atmos Forge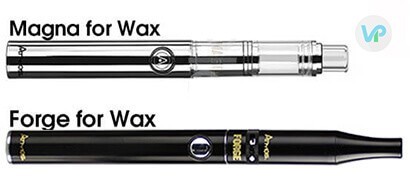 The Atmos Forge vs Atmos Magna, they do have many similar features, but there are instances where they differ. For example, both have titanium composed heating elements, but the Forge uses ceramic rods while the Magna features pure quartz rods. These vaporizers are highly portable and compact, but they use different batteries. The Magna uses a less powerful 600mAh lithium-ion battery, while the Forge employs a very powerful 950mAh lithium polymer battery. The Forge also features adjustable airflow and the Magna lacks it. Both vapes are competitive in price and are worth the money.