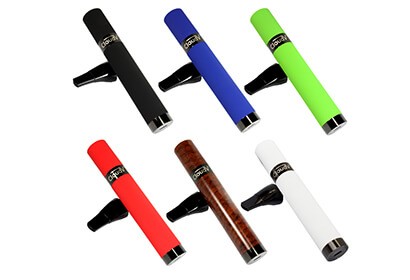 While Cloud V is mostly known for producing some of the best vape pens on the market today, their Cloud V Phantom dry herb vape pen is becoming one of their most popular products due mainly to its attractive price point. Larger than some other herbal vaporizer pens, but smaller than a standard portable vaporizer, Cloud V dry herb pen has some positive attributes along with a few drawbacks.
Basics of Cloud V Phantom Dry Herb Vape Pen
- Price - The Cloud V Phantom retails for around $129, making it less expensive than many other portable vaporizers, and competitive with other best vaporizer pen models.
- Reputation – As far as performance goes, the Cloud V Phantom is typically considered to produce vapor of average quality. The first few draws from the herb pen are usually quite pleasing, but taste quality often diminishes as session continues. Also, the vape pen tends to run hot, which can make the vapor less smooth.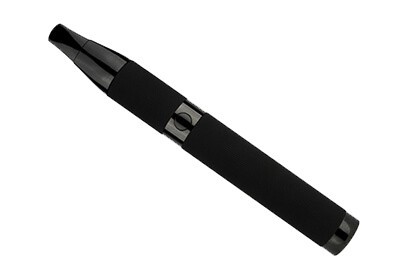 - Guarantee - The Cloud V Phantom has a 1-year warranty, which is good compared to other vaporizer pens.
- Prep Time - Ready for use in just a few seconds, the Cloud V Phantom is faster than most portable vaporizers, and as fast as the best vaporizer pens. You will need to grind your herbs very finely by using a herb grinder for best results, but that's not uncommon for herbal pens. There are only a few parts in the design of the pen, so it's very quick to set up.
- Portability, Size and Privacy - As mentioned before, the Cloud V Phantom is smaller than most portable vaporizers, but it is larger than some other herb pens. It is bigger than most people's hands, and it will likely be too bulky to fit in a pocket. Still, for the increase in size, you get a larger herb chamber, which means longer sessions with less refills.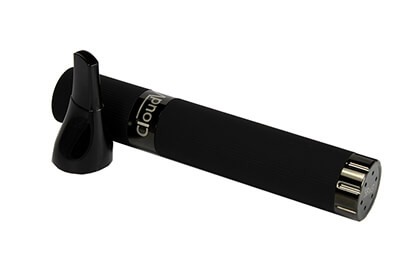 - Ease of Use - The Cloud V Phantom has only one button, allowing for straightforward operation. There is an LED light that lets you know when the vaporizer is on; however, it can be very difficult to see, which can be annoying, especially when you're unsure whether or not the 2-minute auto shutoff has kicked in and turned off the vape pen. Drawing from the Cloud V Phantom vape is fairly easy, but there is some draw resistance that might make this an impractical choice for people with lung problems. With only a few parts, the vape pen is easy to clean and maintain.
- Heating and Temperature Regulators - Unlike some other vaporizer pens, the Cloud V Phantom has just one temperature, which is 428 degrees Fahrenheit. This is rather hot for a vape pen, and that does seem to diminish the vapor quality.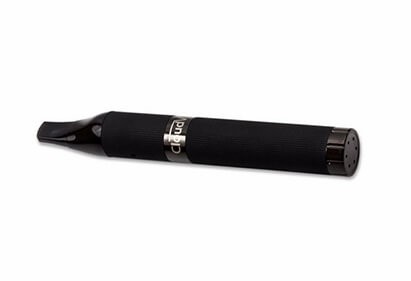 - Power Supply - The Cloud V Phantom's battery life per charge is competitive with other vaporizer pens. One nice feature about the battery is that it's removable, so you can replace it without having to get a whole new vaporizer pen.
Pros of Cloud V Phantom Dry Herb Vape Pen
Economical price compared to other portable vaporizers
Large herb chamber capacity for a vape of its size
Fast heat-up time
Only one button for operation
Battery is removable for easy replacing
Simple to maintain with only minimal parts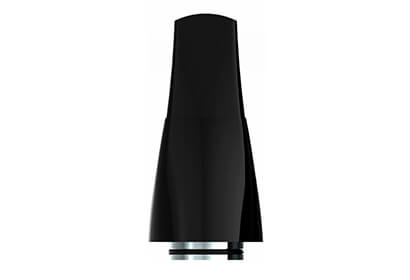 Cons of Cloud V Phantom Dry Herb Vape Pen
Vapor quality decreases as a session goes on
Single temperature setting may be too hot
Hot temperature leads to reductions in smoothness compared to other vape pens
Larger size than many other dry herb pens
LED light is difficult to see because it is faint
Tips for Using the Cloud V Phantom Dry Herb Vape Pen
For best results, be sure to grind your herbs as fine as possible before loading them into the vaporizer pen.
The Cloud V Phantom vaporizer pen works best when it is packed rather full.
Cloud V Phantom Review Video
Buy Vaporizers and Vape Pens from VaporPlants.com