Dr Dabber brand is considered by many as the maker of the best vape pens for wax on the market today. The brand has earned that reputation by being focused on both technology and quality. The idea behind Dr Dabber has always been to create simple vape options, and that made vaping not just better, but just plain better than combustion. To accomplish their goals, the experts at Doctor Dabber have diligently researched vaporization and worked hard to create a dab pen that provides plentiful vapor that is free of impurities, potent, and great tasting. Choosing a Dr Dabber products ensures that you'll have a truly excellent vaping experience with every use, and you can count on all of their wax pens to stand the test of time.
Dabbing is a popular method of using waxy concentrates, but traditional methods of dabbing can actually deny you the ability to truly get all of the benefits. It all comes down to temperature: when you heat up a dab nail to extremely high temperatures, you can end up destroying some of the compounds in your vaping material. But a wax pen can provide a better experience, provided that you choose one that is well made and capable of heating concentrates with steady low heat in a way that releases all of the compounds. Dr Dabber has a reputation for producing the best wax pens for a dab-like experience without the risks associated with overheating wax and offers a number of such dabbing pens. Let's take a look at their innovative collection: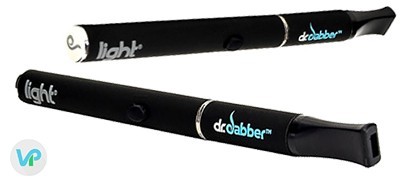 The Dr Dabber Light is an ultra-compact wax vape that fits easily in your pocket. About the size of the average cigarette, it performs very well. The biggest drawback with it is that its small size means a smaller battery. You'll need to recharge more frequently than with other models. It is recommended for people who are most concerned with having a wax pen that is easy to carry and very small, as it comes with the same features as the Ghost. For a full review of Dr Dabber Light click here.
The Dr Dabber Ghost is a full size wax pen that has won many awards. It has a large heating chamber and a powerful battery that lets you vape for many sessions without recharging. A good number of accessories can be purchased to enhance this vaporizer. It has a reputation for being the best dab pen for the money and a nice all around device that really anyone can benefit from. Because it's less expensive than the Aurora, which we'll talk about next, makes it a nice choice for someone who wants a cheaper model, and since you can accessorize it, Ghost kit is good for any beginner who wants to expand and try new things over time. Using titanium technology, it gets hot quickly. For a full review of Dr Dabber Ghost click here.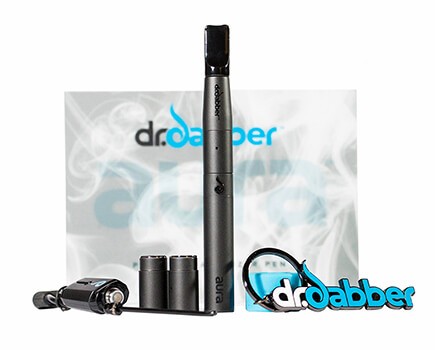 The Dr Dabber Aurora, previously called Aura, is the top-of-the-line model which comes with three different atomizers. With dual quartz coil, dual ceramic coil, and wick-less ceramic atomizers, the vape pen can really be used for any type of wax or oil out there. It features the same long battery life as the Ghost, but has a larger chamber to hold more material. It is the best for true wax connoisseurs who want to be able to use a wide range of materials and always get the best possible experience. It's a nice vape pen to upgrade to after you have some experience vaping and want to use a higher-end kit, as Aurora vaporizer offers easy to change out the components, thanks to the innovative Snaptech Magnetic Technology that the Dr Dabber brand has developed. For a full review of Dr Dabber Aurora click here.
The Dr Dabber Boost is a very unique device, an e-nail for waxy concentrates and is consistently hailed as the best handheld portable vaporizer for wax on the market. The rig features titanium technology and has a glass water filtration system to cool down your vapor, making it perfectly smooth. On a single charge, it can be used for 50 to 60 potent draws. This e-rig can be a good alternative to a traditional dab nail for someone who wants to use concentrates with a classic dab style experience, while getting the best experience with the most benefits. Boost kit, is optimized to heat at a level that liberates important compounds from vapor without destroying them, and is battery powered, so it can be used on the go. For a full review of Dr Dabber Boost click here.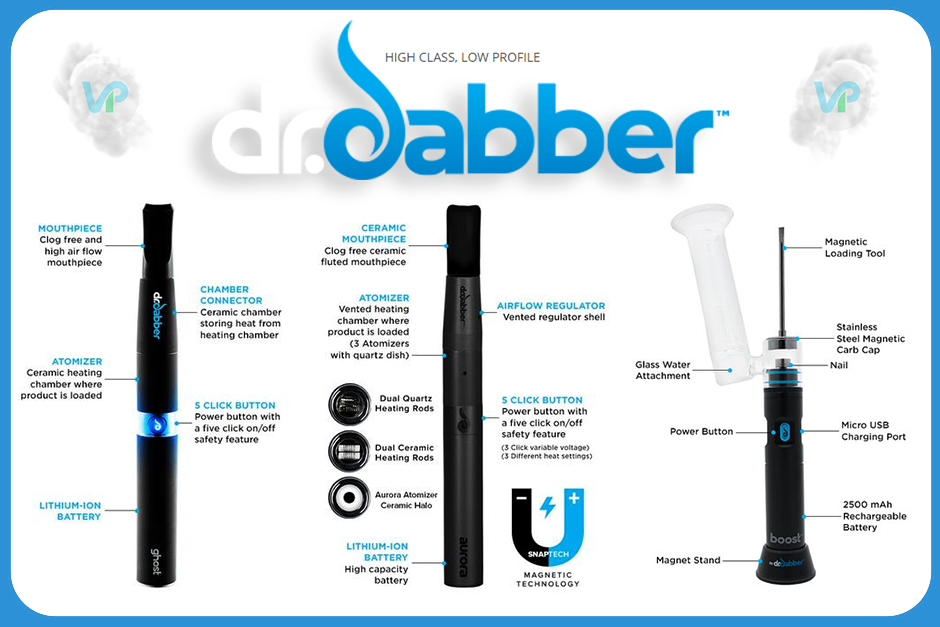 While Dr Dabber team continues to innovate and develop new products that build upon previous designs, they also stay focused on the fact that the best products are made from the best materials. As some vaporizer manufacturers grow, they look for ways to reduce costs, which often means sourcing cheaper parts which may or may not affect quality. Dr Dabber team has remained focused on using the same high quality parts that have made their wax vaporizers famous. Today, there are hundreds of vaporizers out there to choose from, still Doctor Dabber managed to stand out from the crowd because of the quality, making it the company everyone needs to know about.
Titanium Technology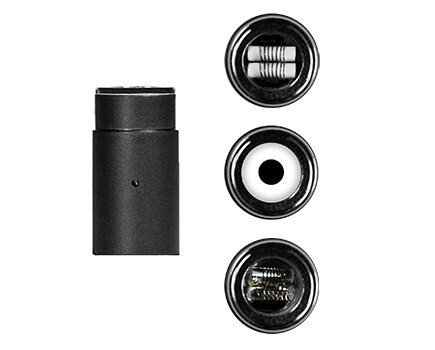 Dr Dabber has been in business for a few years and has developed a fantastic reputation. While many vape pens on the market today don't actually vaporize at all, but instead burn material, Dr Dabber's pens offer a true vape experience without any combustion. The secret to their effectiveness is their low-heat titanium technology that warms material evenly and slowly to the ideal point to release vapor without allowing atomizers to become so hot that the material burns. The company invests heavily in research and development and is continuously introducing new models that improve on their already industry-leading designs. As a result, Dr Dabber has been able to continue to produce the best vaporizer pens on the market; even as technology has advanced and the competition in the industry has become steeper.
Setting a Good Example
Take a look at their glass accessories for their dab pens. The glass globes and water tools made by Dr Dabber are created by an American craftsman who works at the factory, who has been blowing glass using traditional techniques for 18 years and is incredibly gifted at the art of glass making. Instead of trying to turn out as many glass parts as possible, the focus is on producing fewer items with a much higher level of quality - each glass part is made one at a time. This results in thicker glass, tighter seals, and a more durable products that are less fragile than mass produced glass components that come from overseas.
In addition to being committed to providing best wax pens in terms of performance and quality, Dr Dabber also works hard to ensure that all of their models are simple to use. Their straightforward designs make them easier to charge, load, and vape, so that everyone from newbies to veterans can have positive experiences, time after time using any of the vaporizers listed above.
Of course, if you want to truly get the benefits of original Dr Dabber dab pens, it's important that you're careful about where you buy your kit from. Because of the brand's reputation, Dr Dabber has become a victim of forgery, with scammers trying to duplicate the look of their products with cheap parts that fail to deliver the true Dr Dabber experience. You can protect yourself by only buying from an authorized retailer like us -VaporPlants.com.

Dabbing is Not Vaping
Many people think that dabbing is the same as using a vaporizer, but it's really not. Although wax vaporizers are sometimes called dab pens, they're not really dabbing devices. Wax pens heat concentrates to their point of vaporization, so the pure compounds are released, and dabbing with a nail and a lighter is done at a much higher temperatures, putting you more at risk of toxins. So temperature matters, and that is why Dr Dabber vaporizers do not get hot enough to release all of these unnecessary compounds. While it's true that some vape pens won't give you the same effects possible with low temperature dabbing, the best wax pens can. Dr Dabber has managed to make a line of models that allow you to enjoy maximum benefits with a true vaporizing experience.
Dr Dabber Review by Bryan Patel - "Yes, I love Dr Dabber! Like VaporPlants' team states, many of the vaporizers out there today, including a few that I have tried. and some that I own, seem to just light the stuff on fire and not actually vaporize anything. I can't tell you what a relief it was to find out about Dr. Dabber brand, and give them a shot. I have never been happier, my go to is the Ghost wax pen. It is so small that I can take it virtually anywhere I want to. The crazy long battery life is incredible, too. I can go out of my house, and not have to worry about bringing a charger with me. I think I want to try the Aurora next."
You can learn more about Dr Dabber line of products on the product pages above. If you have any questions or would like more help choosing the best vape pen for wax for your needs, please contact us and we'll be glad to assist you. We're always here to answer your questions or to recommend the right vaporizer to help you have the best experience possible when you vape.