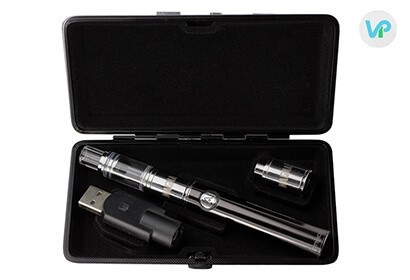 Sleek, portable, slim, and easy to use: words every vaper wants to hear when considering purchase of a wax pen vape. The Atmos Magna has been designed with portability, convenience, and ease of use in mind so that you can take your favorite concentrates on the go and enjoy them to the fullest, no matter what.
Pros:
5-Year Warranty
Easy access to heating element
Glass mouthpiece
Great flavor
Dual and single coil titanium and quartz atomizers
Efficient single button system
Price
Cons:
Smaller battery than others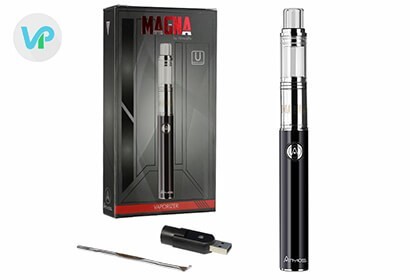 - Price - The Atmos Magna comes in at a price of $54, a great and competitive price for a wax vaporizer pen.
- Vapor Quality - The vapor quality is good and is due in part to the quartz rods included in the heating element. The mouthpiece also features a glass tip that at once preserves the rich flavor of the concentrates and helps reduce the transfer of heat.
- Guarantee - This dab pen vaporizer comes with an impressive 5-year warranty.
- Prep Time - It takes a short time to prepare for use. Loading the tool is simple with its magnetic chamber cover that features no threading, which helps to prevent clogging. Included in this kit is a packing tool to help speed up the preparation process.
- Portability - The Atmos Magna is ultra slim and very portable. It even comes with the packing tool so that you don't have to worry about carrying around a bulky case of accessories.
- Ease of Use - The Atmos Magna's magnetic chamber cover and enhanced glass mouthpiece makes for an easy way to get at the heating element inside. This speeds up the refilling process to help you vape more efficiently. It also boasts a single button system, that lets you go through the three preset heat settings quickly.
- Heating and Temperature Regulators - The Atmos Magna oil vaporizer utilizes two separate coils so you can personalize your power. There is a single coil and a dual coil, both optimized with titanium coils and the flavor enhancing properties that come with quartz rods. Three temperature settings are made available to you as well.
- Power Supply - The 650mAh temperature control lithium ion battery is responsible for the great temperature settings and has a decent power supply.
The Atmos Magna is certainly one of the more portable vaporizers on the market. This wax vape boasts three temperature settings and an easy-to-access heating element that make it quick and easy to begin vaping in no time. It produces wonderful flavor and vapor thanks to its coils and mouthpieces and even comes with its own loading tool, giving the Atmos Magna an appeal that you cannot deny.

How Does the Atmos Magna Compare to Similar Vapes?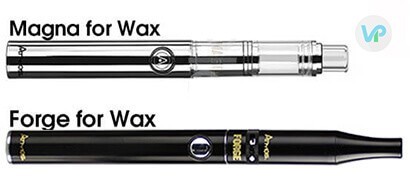 Atmos Magna vs. Atmos Forge
Both the Atmos Magna and the Atmos Forge come with a 5-year warranty. Both are very simple to fill and to clean and have titanium heating elements, but there are ceramic rods in the Atmos Forge and Quartz rods in the Atmos Magna. The Forge uses a 900mAh lithium-polymer battery, whereas the Magna uses a smaller 600mAh lithium ion battery. Another place it differs is in the way the Forge has adjustable airflow, but the Magna does not. Both of these vapor pens are extremely portable and are featured at a reasonable price, with the Forge only being around $10 more than the Magna. For more information, see Atmos Forge review.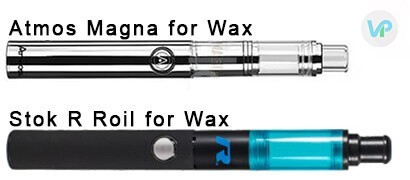 Atmos Magna vs. Stok R Roil
The Atmos Magna is cheaper than the Stok R Roil vaporizer by about $30. One of the major differences is that the Stok R Roil features a ceramic rod in its heating element, where the Magna features quartz rods, which tend to be more desirable due to improved taste. Another place they differ is the heat: the Magna offers three heat presets, while the Roil only offers one, but the Roil has a longer-lasting battery. Do note that if something should go wrong with your Roil vape, you only have 90 days to return it, whereas the Magna features a 5-year warranty. Both of these vapes are easy and fast to load and are highly portable. For more information, see the full Stok R Roil review.