New to the world of vaping? If you're just beginning to explore the options that are available to help you benefit from herbal blends without having to smoke, you'll soon find that there are hundreds of vaporizer options out there. However, only a handful of brands and manufacturers of such options are especially well known due to their exceptional performance. The Magic-Flight is one such vaporizer brand, and you are about to introduce yourself to it!
Many studies have shown that using dry herb vaporizers instead of more classic methods, such as smoking, may have health benefits which makes them a better alternative. When vaping, you are using only the purest form of the plant, and none of the potentially harmful compounds that can be present in such plants. It is based solely on this knowledge that portable vaporizers have begun popping up, hoping to ride the waves of this trend in the vaping industry. Magic Flight, has been around for many years, and the brand, the products, and the engineers are only getting better with age.
Imagine a portable vaporizer that could efficiently vaporize your favorite herbal blends, was easy to use, and wouldn't cost a fortune. If this sounds like the stuff of fantasy, it's because it is! Magic Flight brand creates vapes that are so unique, they're simply magical. Their Magic-Flight Launch Box and Muad-Dib Concentrate Box are beloved by vaping enthusiasts due to compact size, efficiency, and speedy heat up time. What's more, the Magic-Flight vaporizers are completely handcrafted in the USA out of premium hardwood for a look unlike any other. The expert craftsmanship that goes into every Magic Flight kit allows the products to be warrantied for a lifetime, but despite all the unique features, the Magic Flight brand is remarkably affordable!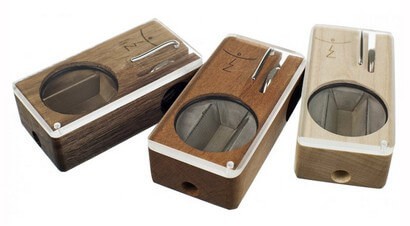 Magic Flight is a top manufacturer of best handheld vaporizer units which are battery operated, but unique in that they don't resemble anything like electronic cigarettes. Based out of the USA, Magic Flight is a unique company in that all of their models are hand crafted, rather than being produced on assembly lines. The brand is also well known for using wood in the construction of their wax and dry herb vaporizer models. This not only makes their vapes attractive, but durable enough to be sold with lifetime warranties. The Launch Box is the portable vaporizer that made Magic Flight brand legendary. Sometimes called the MFLB or the MF Launch Box vaporizer editions are very simplistic, yet have highly efficient design. When you're ready to vape you can just load your dry herbs or waxes into the oven in the middle. Then, insert the battery, push down on it, and draw through either a stem or a piece of tubing. The vaporizer chambers will get hot instantly, and produce large clouds of vapor that is smooth, potent, and pure. For a full review of the MFLB click here.
There is another Magic Flight version for you to try. This vape is made for waxy concentrates only and is called the Magic Flight Muad-Dib Concentrate. It definitely did for wax vaporizers what the MFLB did for herbal vapes. This unit is truly impressive and will make a great addition to any serious vapor enthusiast's collection. The Muad-Dib (maw-deeb) Concentrate Box comes with everything you will need to easily, and quickly vape concentrates, oils, and other extracts. It uses the same simple technology as the original Launch Box, but with a smaller screen design which vaporizes waxes in as little as three seconds using the same batteries as the Launch Box. For a full review of the Muad-Dib click here.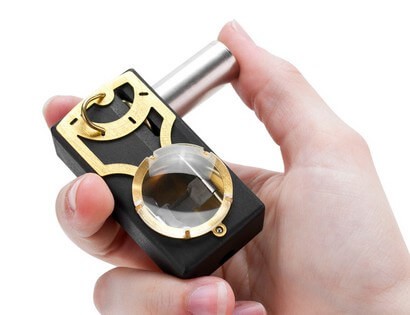 Pros and Cons of the Magic-Flight kits:
Small enough to fit into your pocket, the MFLB and Muad-Dib are a truly portable vaporizers. You can even buy multiple batteries to ensure that you always have a fresh one ready for vaping, and because the batteries are external, they can be replaced easily when they wear out. Despite these models being warranted for a lifetime and are hand crafted, they are much more affordable than many other similar vaporizers on the market. Plus, vaping with Magic-Flight models slowly depletes the active ingredients until the material turns brown; instead of charring when aromatic blends are smoked. Vaping becomes easier and the effects happen more gently for an increase in enjoyment.
The only real drawback to the Magic-Flight vaporizers is that it can take some time to master the best technique for producing plentiful vapor. To do so, it's usually best to start slowly drawing before you push in on the battery, and to continue doing so for a second or two after you have released the battery again.
Let's take a look at the brand's history:
One man, working in his garage created the original Magic Flight Launch Box many years ago. He spent his time crafting gorgeous artisan vaporizers out of wood. Which presently, has become an international company that is one of the most abundant and swiftly growing in San Diego. Magic-Flight distributes all across the world and offers accessories from water filtration devices to herbal grinders, all of which have that unique wooden appeal. They are made from high quality woods and materials that are naturally sourced, inscribed, and designed with aesthetics and functionality in mind. Hand assembled, each Magic-Flight device is so beautiful that one might not want to hide it away like most other vapes.

Ritual is a massive part of the MFLB experience. In the instruction manual, it says to pull slowly from the mouthpiece as if you are sipping a mug of hot tea. This encourages not only a fully present experience, but moderation as well. The whole idea behind it is that you have to take your time and appreciate everything about the vaporizer and its functions; Magic Flight likes to call their products functional pieces of art. So, when you order any Magic Flight kit from us for yourself, you'll receive two fully charged batteries and a battery charger, two protector caps, a cleaning brush, draw stem, instructions, and a lifetime warranty. Each kit truly has everything you need to get started. Please take a step back from the flashier vaporizers that are more aesthetically pleasing than they are functional, and instead look toward the Magic Flight brand next time you want to vape. With its incredible wooden artisan styling and its unique mindful function, it will turn any vaping session into a true meditative experience, instead of one that is rushed through.
The Magic Flight Launch Box and Muad-Dib are few of the best vaporizers ever made, but they still require occasional maintenance to function optimally. Replacing parts as needed can help you maintain efficiency, so that you don't waste your dry herbs, wax or aromatic blends when you vape. VaporPlants carries all of the parts that you need for DIY replacements, including Magic Flight batteries. We also carry a full selection of accessories like the power adapter that allows you to vape using power from a standard AC outlet. Need help finding parts and accessories for your MFLB or Muad-Dib Concentrate Box? Contact us for help!

Food for Thought:
With more free markets, certain states are passing laws prohibiting actual smoking of herbal blends and encouraging their citizens to use vaporizers. Sadly, however, there is still limited information available regarding the way each individual vaporizer model actually work. But, there is a research team at Massachusetts Research Labs (MCR Labs) that aims to change this and has conducted a few experiments and published findings in their White Paper - How to Accurately Use a Vaporizer.
Michael Kahn, member of the team at MCR Labs, is able to thoroughly detail the profile of any given herbal strain through his fully accredited laboratory. All Kahn needs is a sample as small as 0.2 grams. With this, he aims to inform people exactly what it is that they are vaping, because he is able to find out details from whether it contains any heavy metals or impurities to just how much is being consumed with every draw. When conducting this study, Michael Kahn and the team set out to answer three main questions:
What quantity of active ingredient is being taken in with each draw?
How many draws are needed before all of the beneficial compounds are extracted?
What is left behind when you are done vaping?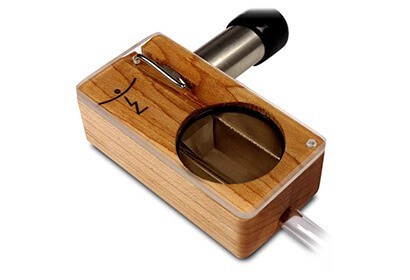 Using the Magic Flight Launch Box as their testing vape, they gathered information on both the un-vaped sample as well as the used portions to compare after a number of different usage times. Each draw of herbal blend was done by taking slow, ten-second draws from the MFLB as directed by the manufacturer. After each, the remaining herb was pulled out and reviewed. The MCR lab's results found that any active ingredients had been completely depleted after 40 draws from the MFLB at the rate of dissipation of 0.3 milligrams per draw. The material profile was also "altered significantly" over the course of just 30 draws. As the session continued, there was a definite decline in the amount of active material in each draw.
While many more identical scientific studies need to be performed before we know that this is true for all materials vaped through all types of vaporizers, it is safe to say that with each draw, you lose a quantitative amount of active ingredient, which is the whole point of vaping. Regardless, this study is an excellent start, so if you choose to buy and use the Magic Flight Launch Box you can review this research further, and learn how to better use your new vaporizer for maximum results
In depth of Magic-Flight vaporizers:
Magic Flight is definitely one of the most popular brands of vaporizers on the market today, and there are many reasons why it is continuing to grow in popularity. If you're considering different options for purchasing a vaporizer, a Launch Box or Muad-Dib could be the perfect solution for your needs.
Consisting of three basic parts:
Vape Battery - is inserted on the side of a vaporizer supplying power to the device. The battery is a rechargeable and you can be re-powered with included wall adapter.
Heating Chamber or Oven - the place where you load the material that you wish to vape. The chamber has a part that gets hot, called the heating element or coil. It glows red hot when current flows when the battery is engaged. Convection occurs as the heating element does not touch the material. Instead, it heats the air inside the heating chamber, and the air in turn heats up the material. This means that the material becomes evenly heated with less risk of waste, and the vapor flows more steadily. To get more information about conduction vs convection click here.
Mouthpiece - the mouthpiece is positioned at the very top of the Magic-Flight vaporizers. It's the part that you put to your mouth, to draw the vapor out of the heating chamber.

What can you vape?
The short answer to this question is - almost anything.
Dry herb - can be used for vaping dry ground leaves and ground botanical herbs. (Lauch Box only)
Wax - waxy concentrates can be dabbed into the chamber with a dabbing tool and with a use of a special tray when using MFLB, but no tray needed with Muad-Dib.
Oil - can also be used for vaping essential oils with a use of special tray. (Lauch Box only)
Don't worry if you want to be able to vaporize different types of materials. You can add the necessary special trays to your shopping cart at the time of purchase in the product listing above.
Who is Magic-Flight vaporizers Best for?
Really, anyone who wants to vape can use Magic Flight Launch Box or Muad-Dib Concentrate Box, but there are some people for whom these models might be especially beneficial if you:

Want a relatively cheap vaporizer - as these are less expensive than many others considered to be best vaporizers, making it good for those on a limited budget or who are sure they like vaping.
Want vaporizer that's easy to use - Magic Flight units have only one button, aka battery, to push and also require less cleaning than other models of vaporizers.
Want to travel or easily vape anywhere - because Magic Flight boxes are so small, light and do not have a cord, they are an ideal choice for on the go use and are very mobile.

Of course, Magic-Flight vapes aren't the only vaporizers that you can buy from us. There are many other portable vaporizers which come in many different shapes and sizes; some even look like other objects like flashlights and flasks. While most portable vapes run on batteries, you can find models that use butane for power or that you heat up with a lighter. Generally, portable vaporizers are more efficient and powerful than vape pens, and they tend to have longer battery lives. But can be more difficult to travel with because of their size, and these are generally more expensive than vape pens. Or even larger desktop vaporizers that run on electrical power, so they have to be plugged into an outlet to work. Desktop vapes are perfect for people who only want to vape at home and aren't worried about storage. The direct electrical power makes them the most efficient and powerful options on the market, generally providing superior vapor quality. Desktop vapes are also usually more expensive than other types of vaporizers.

Some Reviews by Our Customers:

By Jack Strom - I have used a number of different vaporizers in the past and the Magic Flight Launch Box is my all-time favorite. To me, it's still the best portable vaporizer out there even compared to the Firefly and the Pax. I love that it's made out of wood and that it's handcrafted. It's very small and easy to carry and it gets hot so fast. I'll admit that it does take some time to learn how to use it properly, but it's worth the effort. You also can't beat the price and the warranty.

By Declan - I wanted to start vaping, but I didn't have a lot of money to spend. I started with an MFLB unit, and haven't had any issues. Plus, I like the fact that I can take it with me everywhere.

By George Auer - I really am glad I found this site. I have been trying to decide whether to buy a portable vaporizer or a vaporizer pen for awhile. I knew that they were different, in size and looks, but I really didn't know how they compared. This information has really helped me make a decision. It's was not as important to me to buy a cheap vaporizer, but I did want something that's small. I never thought of the Magic Flight Launch Box as something appealing to me, but so glad I have changed my mind and purchased one.

VaporPlants.com has a huge selection of dry herb vaporizers, wax pens, oil pens, and all-in-one options available. You can shop our entire collection by using our menu above or contact us for assistance selecting the perfect vaporizer.