Are you searching for an herbal vaporizer that will help you to enjoy the benefits of different types of herbs? A dry herb vaporizer can provide you with a convenient, highly portable way to benefit from aromatherapy without potentially toxic smoke. Dry herbs are the most popular materials to vaporize, because vaporizing herbal materials allows for all of the flavor profiles that might not come out with smoking, and without combustion happening like it does with traditional smoking, vaping is also considered to be healthier. For these reasons, many are making the switch from smoking to vaping, but there are so many vaporizers for dry herbs to choose from that those who are new to vaping don't even know where to begin. If you are one of these people, continue reading to learn everything there is to know about the best dry herb vaporizers. While finding the best vape pen for dry herb can be a matter of preference, there are a few factors to think about when selecting: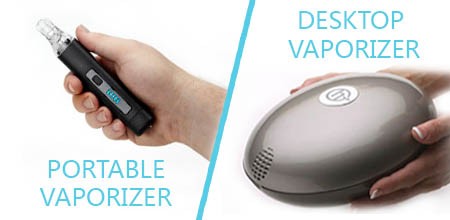 Chamber Size - determines how long you can vape before you need to refill your chamber.
Battery - all models differ in how long their batteries can power the herbal vaporizers before they need to be recharged. Most of the herbal vapes come with cords for recharging via USB and very few have DC adapters for charging in the car or by a wall plug.
Size - how large, will affect how easy it is to carry and how compact it is. Normally, larger vaporizers for herbs will have bigger chambers and longer-lasting batteries than the smaller models.
Warranty - normally, better herb vaporizers will come with longer warranties. Comparing how long each brand warranties the unit for will allow you to judge quality and longevity of performance.
Color and Style - last but not least, you can find herbal vape pens in many different colors, so you can pick one that matches your sense of style.
Many customers prefer to start off by focusing on the dry herb vape pens that will best fit their budgets, others look for more advanced choices or a specific brand which makes one of the best herbal vaporizers. Regardless of your criteria, we do have a very wide selection of herbal vaporizers tailored to satisfy all customers. Take a look below at our handpicked selection to make a choice that will work best for you and let us know if you have any questions. Here are some of the best dry herb vaporizers to consider: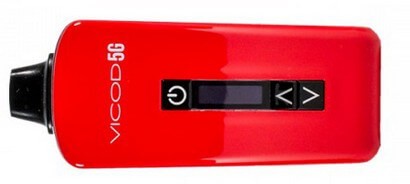 Atmos Vicod 5G – This dry herb vape utilizes a conduction heating system with a ceramic herbal chamber producing clean vapor. It's low in price and is considered to be one of the best portable herb vaporizers of its kind. Compact and complete with a 5-year warranty, it features completely customizable heat settings.
Atmos Jump - has a solid build with a carbon fiber exterior that is sturdy and easy to carry. The herb chamber produces robust vapor with every draw. The Jump vaporizer for dry herbs has no risk of combustion and heats up to temperature in only 7 seconds, faster than most other convection vapes - its downside is that it only has one temperature setting. It can last up to 6 vape sessions on a single charge and only needs 2 to 3 hours to recharge. The Jump herb vaporizer features a 5-year warranty.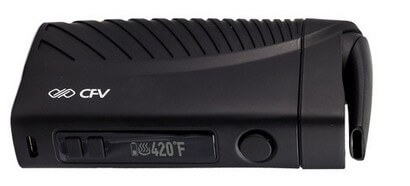 Boundless CFV and CFC - after releasing two prior models, Boundless has improved and introduced the CFV - a convection herbal vaporizer! This herbal vaporizer uses interchangeable heat retention rings that let you customize each session with an array of flavors and potency. Boundless CFV vape features a complete temperature spectrum, a display, and an isolated air path. The Boundless CFC is a step up from their CF herb vaporizer, except it is less expensive and smaller. This dry herb vaporizer comes with a single 18650 battery and a complete temperature spectrum, able to reach its necessary heat point in 20-30 seconds.
The Crafty - made by the same company that makes the Volcano, the Crafty is a true convection dry herb vaporizer and is one of the smallest that Storz & Bickel produces. It is one of highest performing herb vaporizers on the market and comes with both an Android and an iOS app that let you control the unit remotely.

G Pen Elite - features a digital temperature display to choose your desired level of heat. Competitively priced, with excellent vapor quality that you might expect from a higher priced model. This herbal vaporizer has an ergonomic shape that is easy to carry and use while out and about.
Flowermate - around the size and shape of a smartphone, the Flowermate V5.0S Pro herbal vaporizer has a digital display with three temperature setting options. Though the dry herb vape is efficient and works excellently, the herbal vapor gets hotter as the session wears on. That said, it still sells for much less than other vaporizers for dry herbs and is worth the money.
G Pen Pro - this dry herb vape from Grenco Science comes with anything you could need in a starter kit, costs around $90 dollars and offers a wide array of dry herb vaporizer options.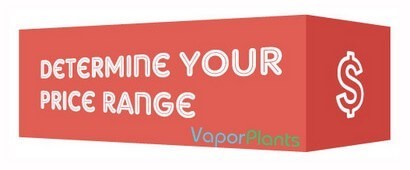 Price Guide for Dry Herb Vaporizers
Please take some time to find a dry herb vaporizer that fits your budget and preferences. Below is a guide to help you find your ideal price range. By taking into consideration style and heating methods, you can find a vaporizer for dry herb that will work well for you and allow you to vape in style. If you'd like help selecting the perfect herbal vapor pen or portable, we would be glad to help you weigh your options and pick the best dry herb vaporizer.
$50 - 99 Range - With a $50 budget, you may have to go with a standard conduction dry herb vaporizer with a shorter warranty than some other devices. There's an affordable convection herbal vaporizer called the Atmos Jump featuring a quality 5-year warranty. If you can spend an extra $50 dollars, you will have even more options including convection vaping to save more money in the long run on your dry herb materials, even if you have to spend a little more upfront.
$100 - 199 - This range includes many more options of herb vaporizers to choose from. You can buy some of the better conduction herbal vaporizers out there along with some top-tier convection vaporizers for herbs. Models to consider include the Vicod 5G, Kind Pen Status, and the G Pen Elite, which all use convection technology.
$200 - 299 - With this price range, you can essentially get any type of dry herb vaporizer you'd like, including high-end vapes like the DaVinci IQ. Most of these will give you incredible control options and provide you with the ultimate quality when it comes to vapor. The DaVinci IQ retails for $275, or you could get the Silver Surfer, one of the first-ever convection desktop dry herb vaporizers that still earns top marks to this day, for around $270.
$300 and Over - If you have at least $300 to spend, you can purchase the Volcano, one of the most highly regarded desktop herbal vaporizers out there. The Classic Volcano goes for $480 while the newer Digital Volcano retails for $600. At this point, if you're going to spend this much on a luxury herbal vaporizer, you might as well go for gold.
Dry herb vaporizers come in a variety of shapes and sizes from large desktop models that fill balloons with vapor, to compact herbal vape pens that can fit in your pocket. Heat is needed for any herbal vaporizer to increase the temperature of vaping materials to the point where they release their natural compounds in the form of vapor. The heating element produces the heat necessary to make vapor. While every vape has a heating element, there are many differences between the heating elements used in herbal vaporizers today.
Why You Should Use Dry Herb Vaporizers?
Switching to one of the true herbal vaporizers listed above will let you enjoy vapor that is much purer and less irritating compared to smoke. Plus, dry herb vaporizers give off very little odor when in use, so your clothes, hair, and skin won't smell after you've used it. If you've never used vaporizers for dry herbs before, you're in for a pleasant surprise, because you should get a much better taste in vapor form than with smoke. Many people who switch to herbal vaporizers say they enjoy the experience more due to the improvements in flavor. Most of the vaporizers for dry herbs on the market today will allow you to experience greater effects with fewer draws, which means that not only can you get faster results, but you'll also use less material with each session. You don't have to invest a fortune to try using a dry herb vaporizer pen either. Vaporizer heating elements warm up herbs, wax, or essential oils using different methods. Once you've determined what you wish to vape, it's a good idea to consider which method of heating you might prefer. A dry herb vape pen can work in one of three ways described below: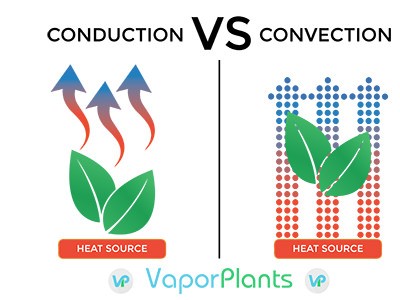 Combustion - Technically, a combustion herbal vaporizer isn't a vaporizer for dry herbs at all. Combustion is the process of burning something, which gives off smoke rather than vapor. Smoke has much higher levels of impurities and toxins and less of the active compounds found in vaping materials than pure vapor. Some people call herbal vaporizers that are heated by the flame from a lighter combustion herbal vaporizers, but technically these vapes are using a conduction heating method, which is discussed below.
Conduction - with a conduction herbal vaporizer, the heating element is in direct contact with your herbs. The herbal vaporizer produces vapor very quickly due to the close proximity of your material to the heat. Most of the dry herb vape models use conduction heating, so you'll find a bigger selection available in any store if you choose the conduction method. Plus, most dry herb vaporizers using conduction heating chambers are more economical, meaning cheaper. In these types of cheap dry herb vaporizers, the herbs are either fed directly to the heating element or separated by nothing but a small metal, glass, or ceramic screen. This allows the heat from the element to be transferred right to the vaping material for very fast heat up and rapid vapor production.
Convection - with a convection dry herb vaporizer, the heating element does not touch your material. Instead, the air gets hot inside of the chamber and warms the material, so if you want to ensure efficiency and a steady stream of vapor, a convection style vape pen for dry herbs is likely better for your needs. A convection dry herb vaporizer heats up materials by passing warm air through them. In these types of herbal vaporizers, the vaping material is separated from the heating element. When the element warms up, it heats the air inside of the vaporizer herbal heating chamber, and then the air heats up the material in turn. This means that with a convection dry herb vaporizer, vapor production begins less quickly, but it allows for more thorough, more even vaporization to reduce waste and ensure a steadier stream of vapor.
How to Efficiently Vaporize Dry Herbs
Dry Herb Vaporizers heat your herbs to a temperature that stays below the combustion point. The vaporization point falls between 200 and 392 degrees Fahrenheit. At these temps, the compounds in loose leaf are activated and turned into vapor. This makes the true herbal vaporizer produce a smokeless gas that you can inhale that does not contain any carcinogens or bad compounds like smoke does. They can be used for dry herbs or concentrates alike.
Dry your herbs. You can dry them in a jar, by wrapping them in a paper bag, or by putting your herbs in a container of rice.
Grind the herbs finely. This delivers more surface area, thereby giving the dry herb vaporizer a chance to heat and vaporize your material thoroughly for best results.
Pack tightly, but not too tightly. You want to give your dry herb vaporizer a little room to breathe, but you don't want to block the airflow.
To maximize vapor and give your heating element more time to produce it, you want to take slow, long draws. Some people call this sipping, and it will deliver better results.
Use a screen. Glass or mesh, it doesn't matter, but you need to use something to protect your material from the heating element. This is less of a concern with convection herbal vaporizers.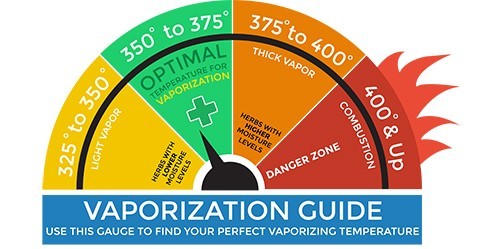 It has been said that 330-370 degrees Fahrenheit is perhaps the best temperature for vaping if you want to preserve flavorful terpenes and promote smooth vapor production. When the temperature is too high, the vapor is harsh and releases all of the compounds at once. Plus, if the temperature is too high, such as anything over 390 degrees Fahrenheit, you run the risk of combustion. Overall, using a true dry herb vaporizer is a healthier alternative to smoking. You don't get the tar and other nasty compounds when you vaporize like you do with combustion. You also don't get that shortness of breath or light headedness, and it can be done just about anywhere. This doesn't even take into account that if you actually want to taste your bud, vaping is the way to go. Combustion just burns off all of those delicate terpenes. Give it a shot. You may be surprised by what you've been missing. Learn more by checking out our how to vaporize herbs correctly page.