If you're shopping for your first vaporizer, you have many decisions to make. From desktops to portables to vape pens, there are options from many brands to suit every lifestyle and need. One of the most important things to consider when you are choosing between vaporizers is the primary heating method used in the devices. This guide was put together by the experts at our online vape store to help you make this important decision. Most people would choose to own a convection vaporizer if they could, as such devices are highly sought after due to their ability to provide high quality vaporization without any risk of combustion that can be a problem with some conduction style vaporizers. Convection vaporizers work by heating up the chamber to the right temperature and passing hot air across the wax or herbs, heating the material as you draw from the vape, whereas conduction vaporizers heat the material directly on their heating element.
Deciding between the dozens of options which are listed above to enjoy your favorite dry herbs or wax? This can be very challenging, as the options for vaporizing on the go have been steadily increasing. To help make it easier to find the best convection vaporizer to meet your needs, here are our picks for top convection models:
$120-$230 Range
Magic Flight Launch Box - is a true vaporizer, which consistently gets rave reviews from vape enthusiasts because of its simplicity. The device is unique in that it's made out of wood. Very affordably priced and heats up in just 5 to 10 seconds. Less prep time than what's common with portable vapes, lifetime warranty and hand craftsmanship make the unit excellent choice for the price. Some people find it difficult to use at first, and when the device isn't used properly vapor quality can be very poor. Combustion is possible, so herbs must be ground much finer for good results, than what is considered the normal grind level for many other vapes.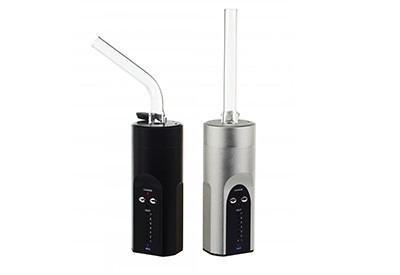 Arizer Solo 1 and 2 - are simple to put together and both function the same, but they do have differences which include their form, batteries and price. They are some of the reasonably priced portable convection vapes and both work exceptionally well, providing you an easy solution to a simple convection vaping on the go. Arizer Solo is a dry herb vaporizer, which is still considered one of the most advanced on the market since it was introduced in 2013. While there have been some advances in vape design since then, including the introduction of a smaller version of this vaporizer, the Arizer Solo is still a solid investment. Glass vapor pathway provides superior tasting vapor, compared to what you'd expect from other similarly priced vapes. Wide range of heat options, with seven different settings, improves efficiency. Larger than many other models, make it harder to travel with.
Arizer Extreme Q - is packed with features such as a remote control, three fan settings, adjustable temperature control, bag usage, whip usage, and a glass vapor path, this vape can do it all. The Extreme Q is great for novices who want to explore what they want out of a vaporizer. One of the pluses of the Extreme Q is that it has fan-assisted water draws. By using the glass adapter, the Arizer Extreme Q has a whip that can attach into any water pipe for smoother, cleaner vaping sessions. The versatility of this vaporizer does pose a higher cost, and among the other convection vapes out there, it is less efficient. There is much to be desired in the consistency of vapor and airflow, and depending on how you have the fans set, the bags can take anywhere from two to five minutes to fill completely. The bags could also possess denser vapor and they need valves in order to perform better. It is worth noting that the Arizer Extreme Q can be modded to fix the issues.
Da Buddha Vaporizer by 7th Floor - a staple for vaping enthusiasts on a budget for years now, Da Buddha is the opposite of the Extreme Q in a number of ways. It is a straight forward, no-frills vape that uses one rotary dial for heating control, and that's the only real setting on the whole unit. It takes advantage of a ceramic heating element that rises up through the wide, glass vapor path for clean, tasty draws and can be used with whips or glass attachments. The simplicity of the Da Buddha is appealing to a lot of people, and it is incredibly efficient, producing robust amounts of vapor compared to the Extreme Q. It is durable and consistent and is a wonderful first-time desktop convection vaporizer for that reason.
$200-$300
There are many great choices in this price range that are great and get the job done, but there are only a few that stand out as remarkable or truly impressive. The main difference between this tier and the under $200 range is that this price range feels a bit more high-end and luxurious. For instance, the Silver Surfer vaporizer, Da Buddha's cousin, falls around the $270 price point, but the design of the heating element, base, and vapor path are nearly identical to Da Buddha. The biggest difference is the Silver Surfer's slanted, 45-degree angle design that allows easier access to the herb chamber and is virtually spill proof. Outside of that, there is a high quality whip and glass wand that are included and the rotary dial has been upgraded to glass.
Plenty by Storz & Bickel - is another great example of a good dry herb convection vaporizer. Made by the makers of the legendary Volcano, the Plenty comes in at just under $300. The Plenty has one of the largest heating chambers of any vaporizer to hold "Plenty" of material and fits easily in the hand. It provides great tasting, smooth, cool vapor and is perfect for passing around at parties due to its size. The only real downside to the Plenty is that it is one of the least efficient convection vapes around. It is also very expensive.
$300+ Range
The vaporizers in this price range are ultra luxurious and efficient. The best vaporizers in this price range deliver unique experiences and all have great reputations in the industry: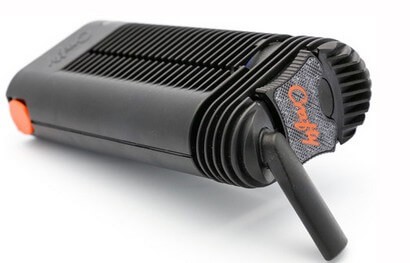 Crafty - is a portable vaporizer made by Storz and Bickel, the same company that created the Volcano, so it's no surprise that it it is rated the best among all portable vapes. Incredibly high vapor quality rivals the performance of many desktop vaporizers. Smartphone app lets you customize the performance of the vape. Being one of the most expensive vaporizers on the market it's battery life is rather short, plus automatic shutoff timer can interfere with vaping if you don't draw deeply enough.
Mighty - is another portable vaporizer made by Storz and Bickel. It is larger than the Crafty and is also a herbal convection vaporizer. Like the Volcano, it is truly a cut above others on the market today. Highly efficient, with no risk of combustion and little to no wastage of material. Longer battery life compared to others and high vapor quality that is comparable to what's produced by desktops makes it one of the most expensive models for a reason. Its large size can make it inconvenient to use on the go, and same as Crafty's automatic shutoff timer can interfere with vaping if you don't draw deeply enough.
Volcano by Storz & Bickel - is definitely the most famous, most iconic vaporizer ever. Its prices begin at $480, and this classic vape is doing well on the market for over 16 years after its introduction to the industry. The Volcano is the first bag vape to ever be released and has no real flaws to speak of. The vapor is incredible, flavorful, and potent, and it is likely you won't ever have to worry about this durable unit breaking. Another thing that sets the Volcano apart from other types of bag vaporizers is its precise, accurate temperature range that can be set anywhere between 266 and 439 degrees Fahrenheit. It hits every temperature that one could want to vape at, and the vapor it produces is milky, dense, smooth, and very potent. The Volcano fills an entire bag in less than a minute but it does take around 3-5 minutes to heat up completely.
All vaporizers come with different technology, accessories, and features that allow them to stand out, but convection vapes are truly something special. They offer better purity in terms of flavor and cloud production since they run on hot air instead of touching the heating element directly and posing a risk of burning. This allows for quicker vapor production and generally faster heat up times. While they are more expensive, they are definitely worth the price and will last for a long time. Ultimately, the best vaporizer for you depends upon where you want to vape, how often you want to vape, what you like to vape, and how much money you have available to spend on a new vaporizer.

The convection heating method is loved for its incredible vapor production, efficiency of heating, fantastic flavor production, and typically low draw resistance. Convection vaporizers can sometimes take a bit of time to heat up, but that is a trade most experienced enthusiasts are willing to make, plus there are quite few great convection vaporizers on the market today to choose from. Below, you can read reviews of some of the best convection vaporizers for this year, and information related to convection vs conduction vaping.
What is a Convection Vaporizer?
A convection vaporizer is an electronic device with a battery-powered heating element. This heating element heats herbs or concentrates to their vaporization point, somewhere around 400 degrees Fahrenheit. This is the point right before combustion, allowing you to draw in cleaner, flavorful vapor without many of the toxins found in traditional smoke. A dry herb or wax vaporizer does this in one of the two ways: conduction or convection heating.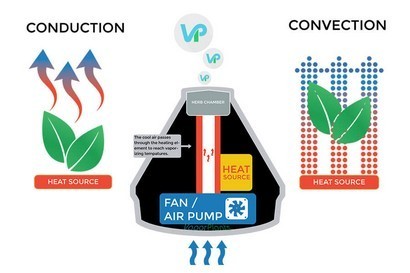 What difference does it make if someone is smoking as opposed to using a vaporizer instead? Are there really any benefits to making the switch, and, if so, what products are available to consumers? When you smoke, or combust, any dried material, you are releasing many toxins, including tar, whereas convection herbal vaporizers side step this, while still delivering the active ingredients in the herbs, by vaporizing the material instead of burning it. Without producing second hand smoke, you are achieving the results you are after without bothering anyone else in the process, as well.
Conduction is when heat is transferred through a solid source, because conduction heating elements make direct contact with your material. Conduction atomizers, or heating elements, are typically found at the bottom of the chamber with your vaping material put right on top of it. Some vapers like this because such vapes are cost effective, user friendly and have a rapid heat-up time. Convection, on the other hand, circulates hot air through the material to heat it. Heat stemming from the isolated atomizer surrounds the material and never touches it like a conduction vape would. This type of vape is preferred and is recommended because it has no risk of accidental combustion, allows for precise temperature control, heats the concentrates or herbs evenly, and delivers a better taste.
When you vape, your material is not getting hot enough to burn - it is just getting hot enough to vaporize. When you bring the plant material to the point of combustion, you are getting all of the harmful compounds that are created when you smoke. You are also destroying certain elements which are responsible for the flavor and aroma. Various studies have indicated that vaping is also better for you than smoking, no matter if it is a convection or conduction vape that you are using. Vaping reduces most of the toxins and can improve your overall experience. Please see below some of the different options you have when buying your new convection vaporizer: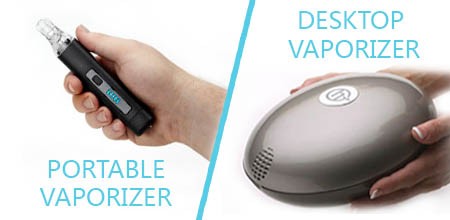 Desktop convection vaporizers - use a direct power source plugged into a wall outlet and sit atop a table, often delivering more vapor and better flavor. These use conduction heating almost as frequently as convection heating; so it truly depends upon the model.
Portable convection vaporizers - designed for life on the go. Available in an incredible assortment of options and styles, many feature an internal battery that can be charged through a USB port or car charger, while others use a battery that you simply pop in. Please make sure to check the products description to find out if the handheld unit you are considering - is a convection vape.
Convection vape pens - are usually used solely for concentrates such as wax and liquid oil, but there is a number of dry herb vape pens. These models resemble electronic cigarettes, making them ultra-compact and portable. They are stealthy devices that use conduction heating most often, with more and more models becoming available with convection style heating.
With such an incredible array of options from heating to the type of vape and all of the benefits that vaping allows, it is easy to see why so many people are making the switch from smoking to vaping. If you are someone who likes to take his or her material on the go, a herbal vaporizer or vape for dabbing is the key. Vaping produces less of a smell and most convection portable vaporizers can be brought with you anywhere. You can just load up the chamber before you head out, throw the vape in your pocket and go about your day.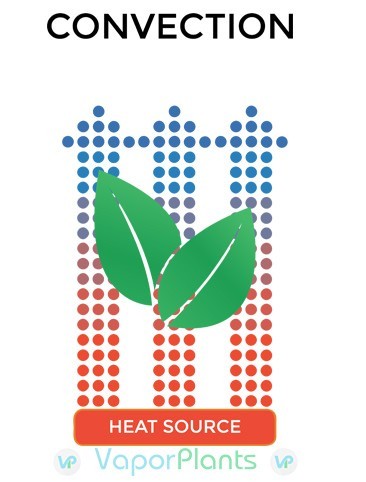 Benefits of a Convection Vaporizer:
Enhanced Control - convection vaporizers give you a greater degree of control over the temperature. As a result, you can make subtle adjustments to improve your results. For example, you can turn the heat up to ensure full vaporization, or vape at different temperatures depending on what type of material you're using.
Even Heating - with a convection method, the warm air passes all the way through the vaping material. As a result, the top, middle, and bottom levels of the dry herb, oil, or wax heats evenly and fully. This means you don't have to shake or stir a convection vaporizer; however, it's important that you don't over pack the heating chamber, as this can limit the flow of air, and lead to poor results.
Low Combustion Risk - It's very unlikely that a convection vaporizer will burn your vaping material when you have the device set at an appropriate temperature.
Drawbacks of a Convection Vaporizer:
Cost - convection vaporizers tend to be more expensive than conduction models, making them bigger investments. But these worth the price difference. There are also more parts in convection vaporizers that can wear out, and require replacement or repair. As a result, consider the warranty time of the model you decide to purchase.
Speed - compared to conduction vaporizer, convection vaporizers are slower to reach their optimal working temperatures; however, it's important to note that vaporizer brands have developed new technologies in recent years to help convection vapes heat up faster than the original models that hit the market years ago.
Pros and Cons of Conduction Vaporizers
Conduction heating is when the material is placed directly onto the heating element's coils inside the desktop or portable vaporizer to be heated. While there is a low risk of creating smoke by combustion with the material directly touching the heat source, it does have its benefits. Because they are so simple, they are often cheaper to buy than convection vapes. They also heat up very quickly and usually you have direct control over the temperature settings. Direct heating will also consume less power, making them more efficient and able to be used for longer periods of time without the battery needing a recharge. The one important thing to consider is that most users report a need to consistently stir their material to get a more evenly heated clouds.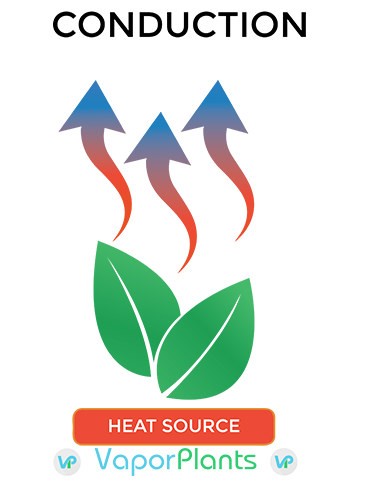 The method of heating where material is placed directly onto the heat source - the coils - to get the herb or concentrates to their vaporization point does not eliminate smoke completely, and conduction vaporizers often burn the material, instead of vaporizing it. Conduction vaporizers were the very first type available for sale and have heating elements that are directly in contact with the herbs, oils, or waxes placed inside of the heating chamber. As the heating element gets hot, the heat is transferred directly to the vaping material to increase its temperature. Now let's take a look at the Pros and Cons of Conduction Vaporizers:
Benefits of a Conduction Vaporizer:
Simplicity - conduction is a very simple form of heating. Models that use conduction as a primary heating method typically have fewer parts. This can make them easier to clean, and also means there are less pieces that can wear out and break.
Cost - typically, conduction vaporizers are less expensive than convection vaporizers, desktops are mostly convection vapes. This makes them popular with people looking for cost effective solutions due to budget constraints, or because they are trying out vaping for the first time and don't want to invest a lot.
Speed - conduction vapes get hot very quickly, meaning less wait time before vapor is produced.
Drawbacks of a Conduction Vaporizer:
Combustion Risk - conduction vaporizers get very hot. In fact, they get so hot that they can actually burn vaping material. This causes smoke to be released instead of vapor.
Uneven Vaporization - with a conduction method, the material at the bottom of the heating chamber, closest to the heating element, will vaporize first and release its vapor. Hence, the material above may not fully vaporize, reducing vapor production. As a result, you must shake or stir as you vape to ensure even heating.
Learning Curve - conduction vaporizers are a little harder to use. You may need practice to be able to get a full, satisfying draw with a conduction vape, and you may need to experiment with different temperature settings to find out how to get the best results.
It all comes down to your tastes, as each heating style has things that different folks will enjoy differently. Someone who wants a great taste and potency above everything else is better off with convection, while someone who is more budget-conscious and wants a cheap vaporizer pen with faster results should choose a conduction vape. Whatever you choose, check out many of the vaporizer reviews we offer right here at VaporPlants, and see what we consider to be some of the best vaporizers out there before you buy! You can check out our other vaporizer buying guide to learn more, or contact a member of the customer service team here at our store for personal shopping assistance.
Vaporizer Temperature Guide
Ask 10 people who have been using a vaporizer for a long time; what the best temperature for vaping is, and you're probably going to get 10 different answers! The truth is that there is no single optimal temperature for vaping. That's why the best convection models give you a range of temperature options in the first place! Here are some of the things that impact optimal temperature: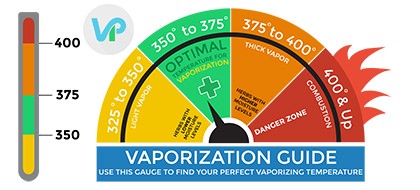 - What you're vaping - dry herbs differ in their content and that leads to differences in how they vaporize. Different compounds vaporize at different temperatures, and the variation can be rather dramatic between what works best for one material compared to another. If your herbs aren't completely dry, that can change their heating requirements, too. Keep in mind, though, that with any conduction or convection vaporizer, completely dry herbs will vaporize most efficiently, so it's always smart to start with the driest herbs possible.
- What you're vaping with - the biggest factor influencing what temperature you set your vape at is the vape pen, portable vape, or desktop unit that you're using. All models work a little differently. One vapor pen may nearly combust herbs at its top heating level, while another may need that extra heat to produce vapor that really packs a punch.
- What you like - people have different preferences for vapor qualities. Cooler vapor is usually denser, while warmer vapor is light. Keep in mind, though too, that some vaporizers can be used with water tools to cool down vapor after it's produced. While each vaping material is slightly different, you can use different reference points as a guide when setting your vaporizer. Different compounds reach their points of vaporization at different temperatures. As a result, you can ensure that you are getting the benefits of specific naturally occurring compounds by setting your vape to the recommended temperature.
How Hot Is Too Hot?
Keep in mind that it is generally not a good idea to vape above temperatures of 445 degrees Fahrenheit or 230 degrees Celsius. Doing so increases the risk of combustion, meaning you're more likely to be smoking than vaping. So... which temperature is the best? The way to find out is really to experiment with your vaporizer. Load up your preferred material and try out different temperatures. Start somewhere between 355 degrees Fahrenheit and 385 degrees Fahrenheit, which seems to be the ideal range for most vaporizers listed above. If you're not satisfied with the amount of vapor, or not getting the benefits you desire, adjust the temperature higher next time. With a little trial and error, you'll be able to determine which setting is right for you and your dry herb vaporizer.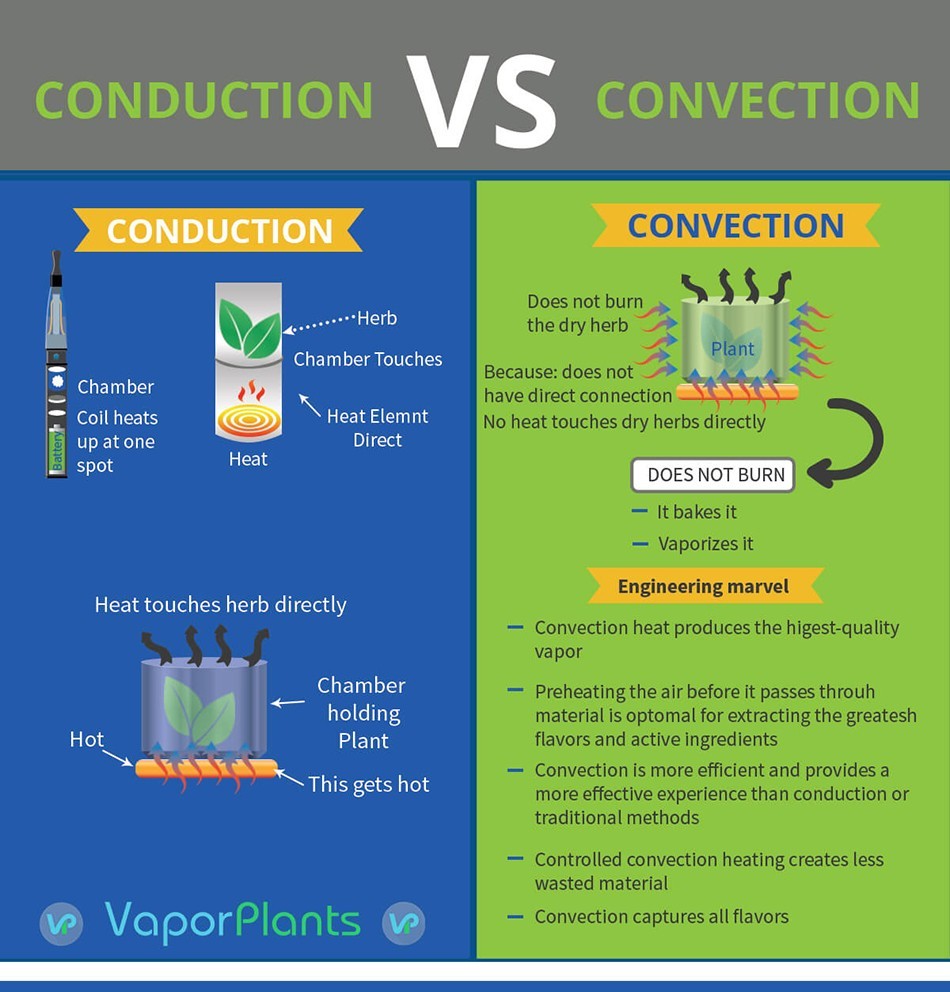 Alongside the purported benefits of switching, you can save money, time, and effort to ingest your materials. There are a number of different vaporizers that boast different perks, such as the highly regarded Atmos Vicod 5G or Puffco Plus. There is one available for everyone, and once you find the perfect vape for you, you will never go back to traditional smoking again. Check out our selection of vaporizers for dry herbs and wax above, right here at VaporPlants.com!