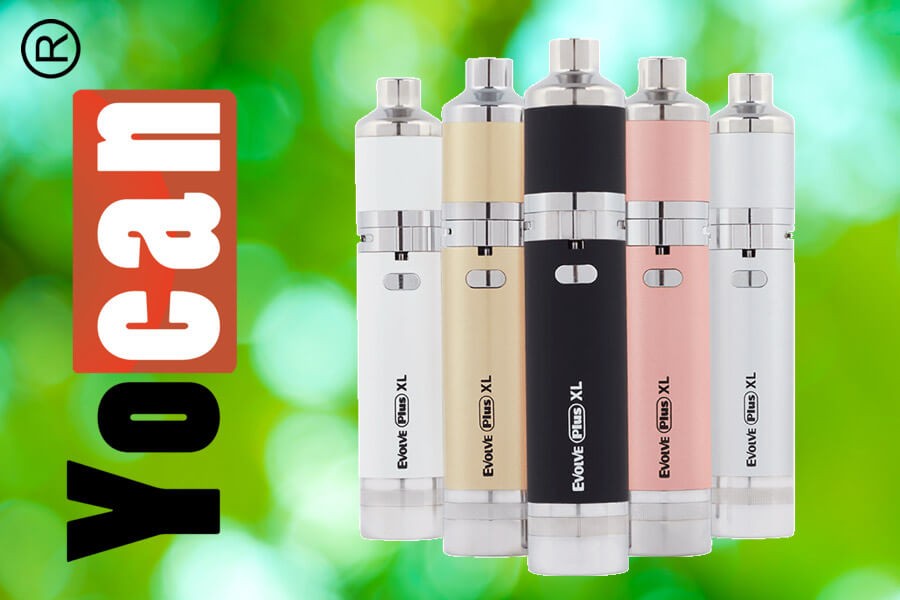 2019-10-21 22:41:02
Yocan is a leading brand in the vape industry and focuses on creating vapes for use with both concentrates and dry herbs. The company was created with the goal of steering smokers away from unhealthy combustion methods of consuming their concentrates or loose leaf products, introducing them to a healthier way to consume the products in the form of vaporization. Each model is made by a special team that works their hardest to find ways to make the vaping experience as healthy and as simple as possible by creating reliable vapes that reduce toxins and that are easy to use. They design vapes for all kinds of people, whether you are an athlete who needs to breathe easier or a vocalist who does not want to ruin your voice, there is a Yocan vape out there for you.
Yocan Evolve-D Vaporizer
The Yocan Evolve-D is unique in the way that it has a pancake style atomizer. The Yocan coils make it easier for the material to be spread out evenly, ensuring that there are no hot spots and that all of the leaves get vaped in a consistent manner. It is a dual coil atomizer, meaning that there is more power behind it to give you better hits. Ultra compact and discreet with a 650 mAh battery, the Evolve-D is ideal for bringing with you anywhere.
Yocan Evolve Plus Vaporizer
The Yocan Evolve Plus is ideal for the vaper who likes to vape their concentrates on the go. Not only does its smaller size make this possible, but it also comes with a built-in concentrate jar that lets you carry all of your material around with you in one single unit instead of trying to keep up with a separate jar. The Evolve Plus has a large chamber so you can just pack and vape, and its three-second heat up time lets you take a hit in an instant wherever you are.
Yocan Evolve Plus XL Vaporizer
The Yocan Evolve Plus XL works essentially in the same way as the Yocan Evolve Plus, but it is even bigger and better than before. This dab vaporizer uses a quad quartz coil atomizer instead of a dual, which provides you with massive clouds that do not skimp on flavor. It, too, has a large chamber and a built-in concentrate chamber, but it has a 1400 mAh battery that can last you all day or more than one day depending on how much you use it.
Yocan Evolve Wax Pen Vaporizer
The Yocan Evolve features a dual quartz atomizer that provides you with impeccable flavor. It has a leak proof chamber and a slender pen-style design that makes it easy to tote around in a pocket or purse. The coil cap helps keep everything in place, and it has a protective atomizer tube for safety.
Yocan Hive Vaporizer
The Yocan Hive is one of the more popular choices from this company. It is simple to assemble and to pack, thanks to its magnetic pieces, and its curved, square body feels great in the hand. It is small enough to hide mostly in the palm, and it has a long-lasting 650 mAh battery that lets you carry it with you anywhere.
Yocan Evolve-C Vaporizer
The Yocan Evolve-C can be used with both wax and oil. It has a quartz atomizer that delivers clean, impeccable flavor. There is a 1.8 Ohm coil attachment that can be used in order to allow each hit to pack a bigger, throatier punch. It has a simple, single-button control that lets you just press it and vape instead of having to worry about fiddling with controls. The Evolve-C is also leakproof.
Yocan Magneto Vaporizer
Named for its magnetic parts, the Yocan Magneto is simple to load and simple to use. It has a multi-layered ceramic atomizer that allows for impeccable flavor and even heating. There is no threading to get sticky, and the built-in wax chamber lets you easily tote your material around with you. It boasts a long-lasting 1100 mAh battery.
Yocan iShred Vaporizer
For those who want a little more control over their vaping sessions, the Yocan iShred vape is there. This vape has an LCD display that shows the temperature and the battery life. It is easy to navigate through the adjustable temperatures, and it comes with cool features like a built-in grinder and an integrated stir tool. The large ceramic bowl offers thorough heating and a clean taste.
Yocan Hive 2.0 Vaporizer
The Yocan Hive 2.0 is an improved-upon version of the standard hive. It can be used with both eliquid and wax instead of just wax, and the variable voltage lets you choose temperatures more easily. There is a window that lets you see when you need a refill, and the magnetic connections make it easy to fill when the need arises. The 650 mAh battery allows the Hive 2.0 to last all day.
Yocan Explore Vaporizer
This vaporizer is a 2600mAh box mod that translates the eliquid vaping experience to your waxes and herbs. It provides you with huge clouds, and it has temperature control between 200 and 460 degrees Fahrenheit so you can customize each hit. An integrated stir tool lets you make vaping from the 100 percent ceramic chamber even more satisfying and efficient.
Yocan Torch Vaporizer Enail
Get the same experience using a combustion rig in a vaporizer with the Yocan Torch Vaporizer Enail. This nail functions like a nail but needs no torch. Instead, it works with a dual quartz rod atomizer that provides you with billowing cloud production and great flavor. The airflow carb lets you adjust each hit.
Yocan Pandon Vaporizer
Finally, the Yocan Pandon vape features a quad coil quartz rod that provides you with plenty of space to vape your wax, offering you huge clouds and perfect flavor. It's leakproof, making it simple to toss in your pocket and go. It is relatively discreet and has an ultra long-lasting 1300 mAh battery, making it perfect for on the go use.
With so many options to choose from, there is sure to be a Yocan vape out there for everyone. Review each mini Yocan vape review above to learn which one is the best Yocan vape for you, and get the Yocan wholesale price right here at VaporPlants.